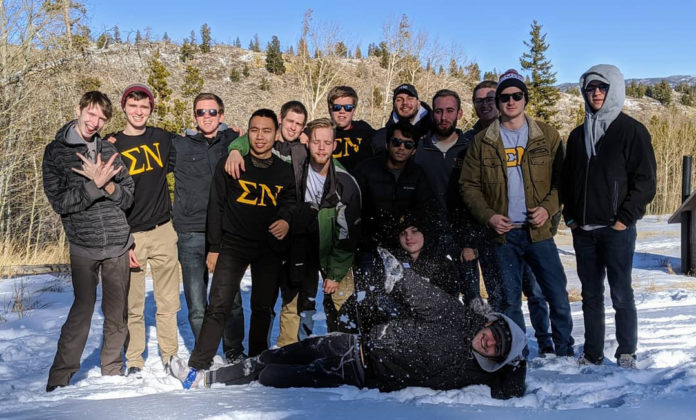 Supporting the Wounded Warrior Project, the University of Wyoming's Sigma Nu chapter hosted a Thanksgiving Festival.
"The Thanksgiving Festival will benefit the Wounded Warrior Project because we donate all money. No profits or even trying to cut even. Every dime goes to the wounded warriors project," said Grant Huber, the community service and philanthropy chair of Sigma Nu.
Sigma Nu hosted the Thanksgiving Festival last Friday from 4:30 to 7 p.m., and will be located at the Sigma Nu house on 1513 E Fraternity Road.
"[It is important] to raise money for a great cause," Huber said.
Huber said over 50,000 men and women of the military have been injured in recent military conflict while half a million live with mental illnesses such as depression and post-traumatic stress disorders from their time served. Many other men and women from the military live with brain trauma that can be debilitating.
He said all the money the Wounded Warrior Project can raise is put towards technology and medical advancements to improve the quality of life for all service men and women who have physical injuries or mental illnesses.
A Thanksgiving feast will be provided at the festival. The main dish of the feast is turkey with mashed potatoes, rolls, cranberry sauce, stuffing and mixed veggies for side dishes.
"Any support from the community on this would be fantastic. We hope to see you all there," Huber said.
This year marks the first year that Sigma Nu is hosting the Thanksgiving Festival.
"The Thanksgiving Festival was started because at Sigma Nu, we wanted to host an event to raise money for the Wounded Warrior Project," Huber said. "We find this important because the wounded warrior project does a lot to help our veterans."
Karaoke will also be provided for entertainment.
"The event is important to me for several reasons. I like to have events that are open to the community of Laramie that can do the town and University proud," said Nash Monti, the recorder for Sigma Nu. "I also like that we will be raising money for Wounded Warrior Project, a charity that is linked to our national fraternity but also is very dear to our hearts at our local chapter, and lastly, it's nice to provide a warm meal in a welcoming environment for students who may not be able to make it home for Thanksgiving this year."
Marty Martinez, the senior project coordinator for Veterans Service Center and an alumni of Wounded Warrior Project, is a veteran himself.
The Wounded Warrior Project helped with the creation of the Veterans Service Center of UW eight years ago, Martinez said, and they organize events. However, in areas like Wyoming where they do not have many offices in the area, they take a different approach from organizing events.
"Wounded Warrior also likes to tag onto events. So if there's other events, say in Wyoming, that they see an interest by veterans to participate then they will help veterans to get there," Martinez said. "That's the cool thing about what they do. They make it 100% free to attend. To get to many times they'll pay for air flights, they'll pay for training equipment, they'll pay for trainers, whatever they can do to help that veteran participate in that program."