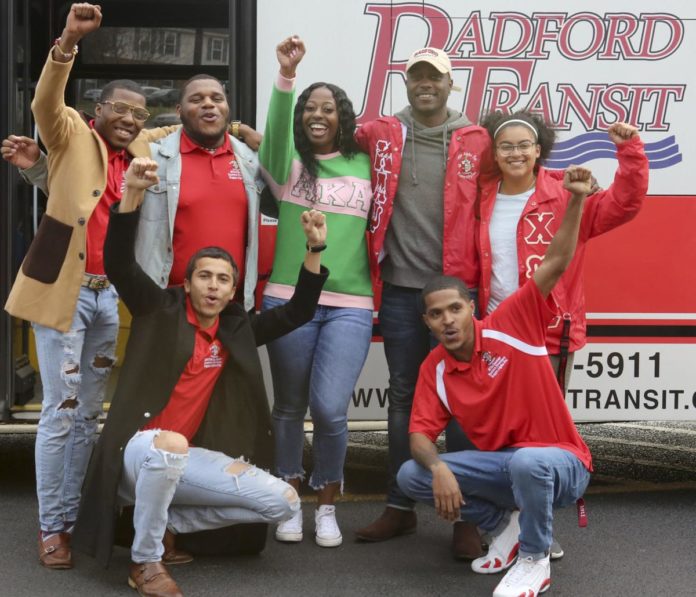 RADFORD — There will be many smiling faces at Belle Heth Elementary School come Christmas thanks to a Radford University fraternity.
Members of the Rho Theta Chapter of Kappa Alpha Psi Fraternity Inc. will provide more than 850 toys for the elementary school students through its inaugural Stuff the Bus drive held Thursday. The toys were donated by fraternity members, faculty, students and others in the community.
The idea for the event came from Travon Selby, a senior marketing major from Norfolk.
Selby, 24, the group's community service chair, was tasked with brainstorming a community service project for the holidays, according to Rho Theta President Marc Mitchell-Collins.
"When he came to us with the idea, we wondered if we could get it done, and Travon said 'oh we are going to get it done,'" Mitchell-Collins said Thursday afternoon.
"It was his job for this holiday season to come up with a good event and he came up with a great event."
The group coordinated with Radford Transit to secure the buses — including a 35-foot one to sit in front of the Bonnie student center on campus and a smaller one at the Fairlawn Walmart — as well as reaching out to the student body and local businesses to participate in the holiday event.
Another major partner, Belle Heth, came about from an already existing relationship with the members of Rho Theta, who have come to the elementary school multiple times this semester to meet and greet students in the mornings. Mitchell-Collins said it is just one of many service projects the fraternity engages in throughout the year, but one members particularly enjoyed.
"It's fun to go and see the kids and how excited they get when we engage with them. It's fun to connect with the kids and ask them how they're doing and just getting to know them a little bit, you know?" he said.
Belle Heth Principal Tara Grant said the school has enjoyed having the fraternity there for the morning events, as it clearly makes the students happy.
"You see their smiling faces and how excited they are to know that somebody is talking to them and getting to know them. It just really makes them feel important," Grant said Thursday afternoon.
She said the school is still working out how to distribute all of the toys but will be partnering with various local entities to ensure the toys get to where they need to be.
Selby, who grew up in foster care from ages 12 to 17, said he was introduced to a student who'd also spent time in foster care. He said they instantly connected and talked about a lot of things together.
"When I was in foster care I was embarrassed, so I just wanted to let him know it's nothing to be embarrassed about. You're just a kid and you can't control the life that was given to you," he said.
Selby said moving from home to home throughout his formative years and not ever having much of a Christmas as a kid motivated him to want to give kids in the community something he never had the chance to experience himself.
Despite putting himself through school using student loans and working when not in school, Selby said he decided he was going to make sure his new friend got everything he wanted for Christmas.
"I asked him about some of things he wanted for Christmas, and we got him the things he wanted. I told him next time I see him to expect presents, so I can't wait to see the look on his face," he said.
Selby, who graduates next month, said that while working for Nike is his ultimate goal, he wants to be involved in the foster care system in some capacity to help kids deal with what he went through.
But for now, he's just glad his event will reach so many kids in the area.
"Every kids deserves one Christmas where they get exactly what they asked for. I truly believe that," he said.