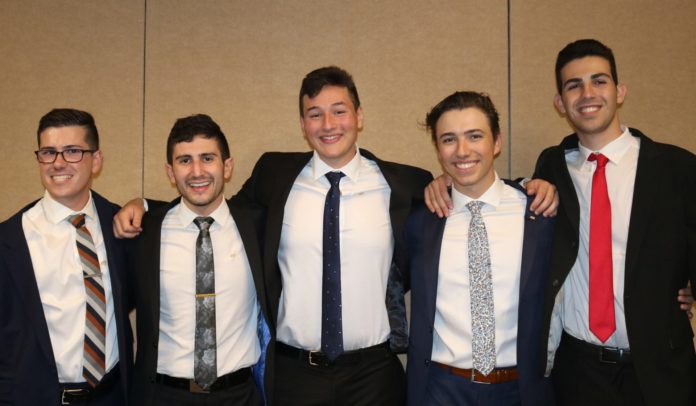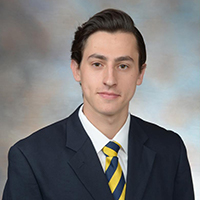 Brother Alan Dreiman (Cal State – Northridge, 2019) is a senior at California State University – Northridge and was chapter master (president) at the time of Brother Michael Lertzman's untimely passing. Brother Lertzman was a sophomore who was killed in a murder-suicide at his home on Wednesday, September 11, no more than five minutes from the Chi Nu chapter. Below is Brother Dreiman's story on how this affected him as well as the brotherhood and Northridge community.
It started as a normal day. I woke up, got ready for my shift and went to work like I would do any other day. Then the first notification came through around 11:00am. Another day, another shooting somewhere. It's crazy how numb we've become to news like this, but this was different. This time it was here in Northridge, California. I quickly messaged our executive board group chat to make sure everyone in our chapter was okay. It's crazy to think that in those few minutes before receiving an answer, it's my responsibility as chapter master to look after the lives of more than 30 other college students. Let that sink in. Time passes slowly, but I hold my breath and hope for the best. Exhale. A sigh of relief, our executive board seems to be accounted for. Before I can go about my day, another text is sent to the group chat. Someone on e-board thought they recognized the picture of the house in the news. I wonder and worry at the same time. I wait for an answer to the question, anticipating the worst, and was shocked to hear it was Michael Lertzman's, a Brother of my own chapter.
My first instinct was to call Michael. I needed to hear his voice and know that he was alright, but the phone kept ringing. He never answered. My heart instantly dropped into my stomach. Michael and his family lived less than five minutes from our chapter, so I asked some of the Brothers to stop by and confirm if it was him or not. Just a little while later, I got the news from our Brothers: Michael had died. I was in disbelief. How could this have happened?
I immediately left work and called a meeting with the e-board. This was what we called a code Omega. I've never had to use our code word in my four years, but it's meant for emergencies when there's a situation out of our hands. After all, how was I supposed to even handle this? They don't exactly provide training for this sort of thing. As chapter master, you're given a lot of responsibility. One of the biggest fears a master has is losing one of his own guys. You hope to make the right decisions for the chapter and pray that no one gets injured on your watch along the way, but life happens, and we can't stop it. Even though this incident didn't happen on AEPi time or property, it's still scary to think about since his family lived so close to us. You never know, the father could have done this to us, but we can't speculate and debate the what ifs.
After speaking to the e-board and staff from AEPi International, I knew it was time to call a chapter meeting and break the news to those who didn't already know. When everyone arrived, we told them what happened to Michael and the room instantly became solemn. There was a depressing feeling hanging in the air and there wasn't a dry eye in the room. Chi Nu decided to open its house to everyone who needed to grieve.
It seems that every new shooting we hear about gets closer and closer to home. We always say that you can't take life for granted, but what does that really mean? Although it's sad, I can tell you from my experience that Michael's death brought an entire community together. The support we received from AEPi staff and volunteers was better than we could have ever asked for. AEPi's CEO Jim Fleischer (Kent State, 1994), Supreme Master Jeff Jacobson (Northern Arizona, 1993) and past supreme masters all called me to offer their condolences. Our Northridge community left us in awe with how immensely supportive they were in our time of need.
You can still feel the brotherly love in the room now. Each hug isn't just a see you later kind of hug, it's a meaningful interaction between Brothers and friends. We didn't embrace each other like this before. While we're grateful for the school offering us grief counseling, I've noticed that the Brothers sometimes find it more comforting to talk to one another.
After Michael's passing, I set up a memorial for him at CSUN. I knew it was my duty as master to make sure everyone was taking care of themselves and put my emotions aside to do my job. My priority from the moment I found out about Michael was making sure all of our other Brothers were okay. After all, "I am my Brother's Keeper." We had asked alumni who wanted to contribute to donate food or flowers for the memorial, got tables and chairs and invited the Chabad Rabbi to say a few prayers on Michael's behalf. The memorial was on Thursday, so we had a Friday Shabbat dinner at Chabad to honor Michael, as well. Michael's temple held an event on Sunday, so we sent the entire brotherhood to that as well. By this point, I knew our Brothers needed a break from the community and a chance to grieve together so I decided to put on an event at the house for Brothers only with catered food. It was nice to come together and share our fond memories of him with one another. Michael would have wanted everyone to have a smile on their face and remember the good times.
I remember meeting Michael for the first time. He had tried to rush our chapter four semesters ago, but we couldn't extend him a bid because he wasn't in school that semester. He was determined to join AEPi and vowed to go back to school so that he could join. We welcomed him in just like we would with any other pledge class. His class was small, so they got to know each other better and become very close with one another. In general, though, Michael's AEPi experience wasn't unlike that of anyone else that's walked through our doors and joined. There's no question that he flourished as a Brother of our chapter; he loved being in all of the sorority philanthropies. Setting up sorority serenades was one of his favorite things. It's just a shame to see such an amazing person taken from us too soon.
I won't lie; being master can be stressful. You have to learn to balance your personal, school and fraternity life all at the same time. Don't get me wrong, I've been grateful for the opportunity to serve as master of Chi Nu but it's times like this that make it a hard and daunting task. Michael's death is still fresh for many of us, but we have to persevere as a chapter so we can move forward together. I am more than thankful for the support system inside and outside of our house and don't know where the chapter would be without a place like AEPi.
Each Brother has a brick from pledging with his name on it. We were able to get Michael's and frame it. Alpha Phi was also kind enough to give us a plaque in loving memory of him with his name on it to hang up. While our chapter learns to move forward, our memory of him will never die. Brotherhood lasts a lifetime, and he will be immortalized in our chapter's history. I hope other chapters can learn from situations like this. It's normal to take things for granted, but step back once in a while to see what you have in front of you. Ferris Bueller said it perfectly, "Life moves pretty fast. If you don't stop and look around once in a while, you could miss it."