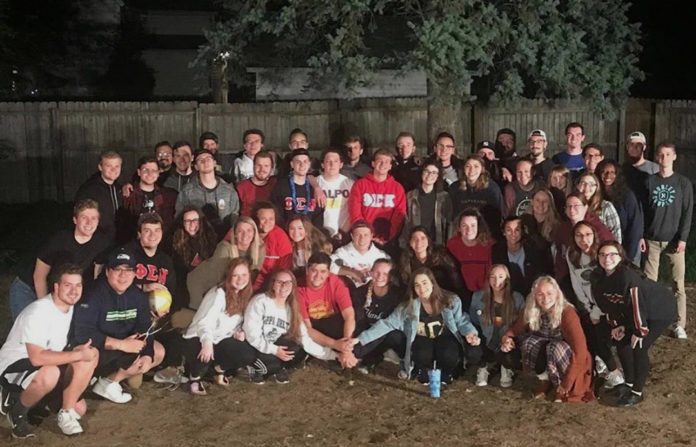 VALPARAISO, INDIANA — This month the recruitment process for Valparaiso University's fraternities took place. Chapters hosted their individual events to appeal to potential new members across campus, and sent out their bids to the promising young men they met during this time. The bid signing ceremony, where new members may accept bids to their chosen fraternities, will take place this evening Friday Jan. 23.
During the official recruitment period, fraternities made an effort to meet these potential new members and provide an opportunity to get to know one another.
"It's kind of like shopping for the freshman," said Eric Chibe, a member of Phi Sigma Kappa and former President of the Interfraternity Council (IFC). "They go to their different fraternities and then they talk to the men in those fraternities. They see what the fraternities are about."
According to Landon Fisher, another member of Phi Sigma Kappa, every fraternity has their own unique take on what sorts of events they hold. A classic one for Phi Sigma Kappa, he says, is a video game night, where TVs are set up at the fraternity's house with different game systems. But they've also done more distinctive events like "turkey bowling," using frozen turkeys and bowling pins. Fisher also recalls hearing of fraternity Sigma Pi playing a game in the pool called "Sigma Pirates."
"So I mean, it's really like almost anything," Fisher said. "It's just, you know, you want it to be a setting where your brothers can get to know these freshmen and potential new members and see if there are people that you want to recruit."
To Fisher, being in Fraternity and Sorority Life is an opportunity to take part in a community.
"I think being in Greek life at Valpo gives you opportunities that you would not get through any other kind of organization at Valpo," Fisher said. "Just because it's like a really expansive and tight knit community. And there's just so many things that go on within the community, like each organization has their own philanthropy event and everybody's really supportive of each other."
When Fisher first went through recruitment, he said that he "didn't really know anything about fraternities" before events during the spring recruitment period.
"I was going in completely blind. I didn't know if I wanted to join or not, I just had a connection, and I figured 'why not?'" Fisher said. "I got really close really quickly with the guys in Phi Sigma Kappa. And admittedly, it was a kind of a tough decision, but I ended up joining and it's been like one of the greatest choices I've made in college for sure."
Chibe says that he was invited to recruitment events by friends in his freshman dorms, who had family within the fraternity.
"I think what really solidified it for me was, in November of my freshman year, the Cubs won the World Series, and that's my favorite baseball team," Chibe said. "It has been and I watched it at that house. And that's kind of like…when I knew I was going to be a Phi Sig."
The qualities Chibe says Phi Sigma Kappa looks for during recruitment are related to their three cardinal principles: brotherhood, scholarship and character, but that character is their biggest emphasis.
"We want someone who's going to represent our fraternity well, who we're going to be proud to call our brother and who we think would be a good fit to our brotherhood," Chibe said.
According to Chibe, there are many benefits to joining a fraternity, including a support network for both life and academic help, as well as social networking.
"It's no secret that college and just life in general is not like it's not an easy ride," Chibe said. "It can be a roller coaster, and it's really nice to just have a support system and a whole house of brothers there to back you up."