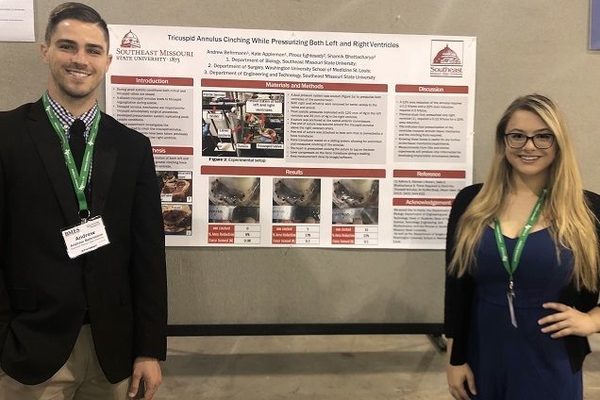 Two Southeast Missouri State University students recently were selected to present their tricuspid heart valve research at the Biomedical Engineering Society Conference in Philadelphia.
"Our research could potentially lead to saving lives in the future," said Southeast senior Kate Appleman who co-authored the study along with Andrew Behrmann. "My family has a history of heart disease, so maybe, one day, I will be able to help them and others, if I go into that field of medicine."
The students' goal was to determine the force needed to cinch normal and dilated annulus of the tricuspid valve – a valve separating the heart's right atrium and right ventricle – by pressuring both the left and right ventricles of the heart simultaneously to mimic the natural physiology of the heart.
Since starting their research on tricuspid regurgitation and because of a heart condition facing his grandmother, Behrmann says he's become much more interested in cardiology and the pathology of various heart conditions. Tricuspid regurgitation occurs when the tricuspid valve does not close tightly, causing backward blood flow into the right upper heart chamber when the right ventricle contracts.
The two, whose research was selected from about 10,000 submitted abstracts, presented their findings alongside 1,200 undergraduates from leading American universities, including Johns Hopkins, Brown University, Washington University, Cornell, Vanderbilt, Duke and others. The Southeast students presented their research in the cardiovascular engineering subsection of the conference
"One of the biggest things I learned at the conference was even students that were there from prestigious universities such as Harvard, Yale, Washington University in St. Louis and Johns Hopkins were still just normal college students like me," Behrmann said. "It gave me the confidence that I don't need to be a superhuman savant in order to get into these top programs."
he Biomedical Engineering Society Conference, held in October, brought together undergraduate and graduate students as well as professional researchers who gave high-level scientific presentations and participated in a career/school fair, exhibits and networking sessions for career development.
"The conference allowed us not only to present our research but also to meet others and widen our networks for later down the line," Appleman said. "It allowed me to network with other amazing schools, professors and students as we learned and had fun at places like the Franklin Institute (a museum and science education center in Philadelphia)."
A Jackson, Missouri, native, Appleman is a senior biology major, biomedical sciences option with minors in chemistry, Spanish and physics. She is a 2018 graduate of Notre Dame Regional High School in Cape Girardeau.
Behrmann, of Millstadt, Illinois, is a senior biomedical science and chemistry double major with a minor in physics.
Appleman credits Dr. Shamik Bhattacharya, assistant professor, and Dr. Santaneel Ghosh, professor, both in the Department of Engineering and Technology, and Dr. Jonathan Kessler, assistant professor of physics, for encouraging her to get to this point.
Behrmann also credits Bhattacharya who first offered him the opportunity to conduct his own research and to select a partner – Appleman – to join him on the project. He also credits Kessler, as well as Dr. Rebeccah Kurzhals, associate professor of biology, and Dr. Diane Wood, professor of biology, for mentoring him as he prepares for medical school.
Kurzhals "truly wants to see her students succeed," he said. "Dr. Kessler is another professor who very obviously cares about his students and wants to see them succeed in whatever their endeavors may be and always made more time to answer questions students had about class or graduate schools."
In addition to his research, Behrmann has been president of Theta Xi Fraternity, vice president of education of the Interfraternity Council and served as a Senior Learning Assistant for Tutorial Services while at Southeast.
Appleman says Southeast has offered her a variety of opportunities in and out of the classroom.
She's participated in the Jane Stephens Honors Program; has been director of academic affairs and intramural chair of Alpha Delta Pi sorority; president of the Red Cross Club; treasurer of the Student Medical Society, Executive Board treasurer of the National Society of Leadership and Success, Sigma Alpha Pi honor society; Student Government senator representing the College of Science, Technology, Engineering and Mathematics; public relations and social media chair of Iota Chi; a member of Rho Lambda, the National Greek Foreign Language Honor Society; a Presidential Ambassador; and a member of Order of Omega, the National Greek Honor Society.
Appleman said she hopes to attend medical school after graduating from Southeast, become a physician and possibly specialize in cardiothoracic medicine or orthopedics.
Behrmann hopes to attend medical school to earn a dual doctoral (M.D. and PhD) degree to become a physician-scientist after graduating from Southeast. He is considering specializing in neurology, cardiology or cardiothoracic surgery.