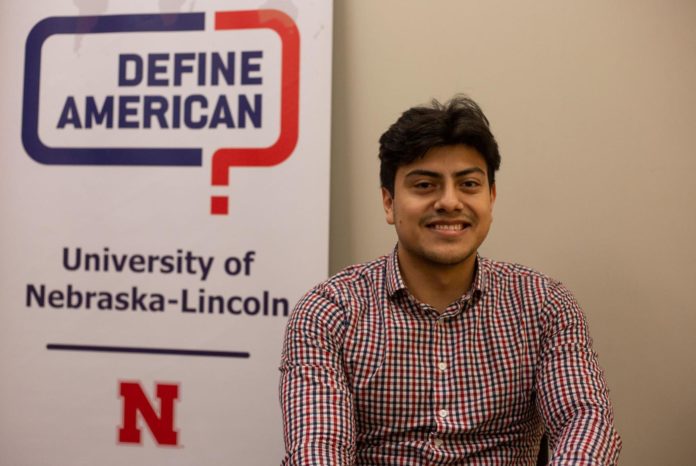 Born in Mexico City, Jorge Marroquin-Solis immigrated to Lincoln when he was 3 years old. Now, as president elect of the University of Nebraska-Lincoln's Multicultural Greek Council, he will lead a community designed to help connect and support people who, like him, are part of minority groups.
Marroquin-Solis, a senior economics major, is the face of the Multicultural Greek Council. In his new role, he said he is responsible for implementing new ideas, setting deadlines, managing time during meetings, making sure all organizations are adhering to their constitution and relaying information between groups.
"I [ran for president because] I wanted to take MGC in a new direction," he said.
In particular, Marroquin-Solis said he wants to take advantage of opportunities to make connections within MGC and bridge gaps between MGC and traditional sororities and fraternities. One of his main goals is to get all of MGC to participate in homecoming.
"I feel like homecoming would be a great experience for everyone to have," he said. "It'd bring more unity within our council, whether that be within just MGC or whether it be with us having socials with traditional sororities and fraternities."
Marroquin-Solis was first introduced to multicultural Greek life when he transferred from Southeast Community College to UNL in spring 2018. He said he liked the sense of community and support MGC provided, so he joined UNL's Lambda Phi Epsilon, a multicultural Asian organization, in the fall.
"I really liked what [Lambda Phi Epsilon members] were about," he said. "I really liked the guys. They were super cool, super friendly and super welcoming."
The Multicultural Greek Council includes five sororities and two fraternities, and, according to Marroquin-Solis, one does not have to be a person of color to join.
"We're all different within our respective councils, but at the same time there's an underlying theme of just wanting to be a part of the community," he said. "It's that support system … helping us strive to achieve our goals and … just help each other out."
Marroquin-Solis said he was elected into the Greek Multicultural Council Executives' secretary position in fall 2019. Then, when all the executive positions opened up for the next calendar year, he decided to run for president.
Marroquin-Solis said he has always gravitated toward being a leader, and he thinks that comes from being the oldest child in his family.
"I have always tended to find myself and see myself in those leadership roles," he said.
Marroquin-Solis is also involved in UNL's Mexican American Student Association, is the treasurer for UNL's Define American chapter and is a diversity ambassador for the Office of Admissions.
"I tend to always be really involved on campus, so I was really familiar with executive positions," he said. "I naturally just gravitate toward taking bigger roles."
Office of Academic Success and Intercultural Services program coordinator and Define American adviser Katie Kodad said she has seen Marroquin-Solis's leadership blossom in the years he has been at UNL.
"I think he will be an amazing leader, as well as give everyone the opportunity to share their opinions and make the best decision for what is best for the group, not only what he might think will be personally best," she said.
Kodad said she believes Marroquin-Solis exemplifies servant leadership and she thinks he will foster unity within MGC, as well as among MGC and the other Greek councils on campus.
"I think he will focus more on the positive," she said. "I think he'll give everyone an equal opportunity to share their opinions and give everyone an equal playing field in the organization.
Marroquin-Solis said he is unafraid to lead tough conversations, and he believes that quality will help him be successful as the MGC president.
"I don't mind being the one that opens up conversations, whether people like it, like me, dislike me," he said. "I feel like there's a lot of development that needs to happen within our own council, and that starts with having tough conversations."
Overall, Marroquin-Solis said he is most excited about attending the Association of Fraternal Leadership and Values conference for the first time, implementing ideas from that conference and expanding MGC's presence on campus.
"Right now, there's a really good feeling because there are a couple more fraternities and sororities coming up, interest groups that are forming," he said. "So, everyone's really vibrant … it's like this momentum that's building up, and I'm looking forward to capitalizing on that."