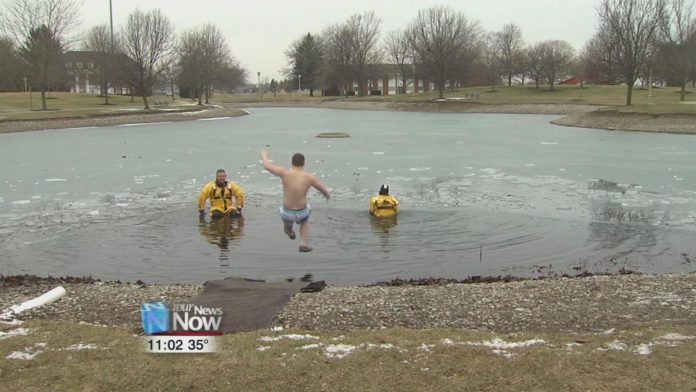 The brisk morning brought high anticipation for people waiting to take that plunge into the frozen pond. The Ada Liberty Township Fire Department removed a sheet of ice from the edge of the pond and waited on standby.
This is the 11th Year for the Polar Plunge and this year Delta Sigma Phi is raising money for the Alzheimer's Association. Keaton Cox, the philanthropy chair of the fraternity, is excited to see their planning for the event pay off.
"You know, it's been a lot of preparation, a lot of time, a lot of effort from the brothers and I, so we're just thankful that it's going to be put on. All we got to do is jump now," says Keaton.
And Keaton started the rally of jumpers by being the first to take a dip.
For every jump in the pond, there was a $5 sponsor behind it. 100% of the proceeds went to the Alzheimers Association. Group by group, people quickly took their plunge and headed straight for the heated tents, or in some cases their dorm.
People could even donate on the spot to have a member of the frat take an additional plunge with their Plinko-style game.
Although the snow was falling and the temperature was about 33 degrees out there, the fraternity seemed to have a great time with their fundraising event. Altogether, they were able to raise just over $1,100.