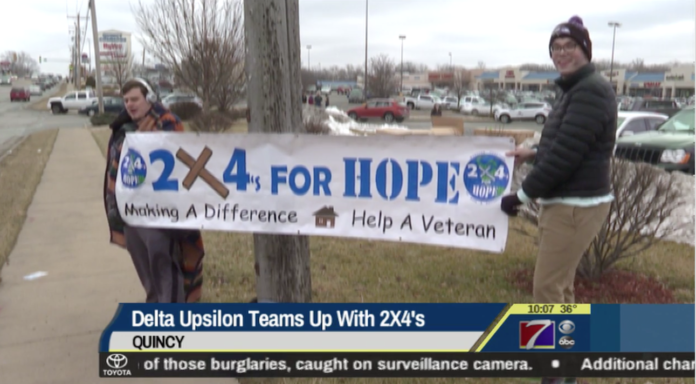 QUINCY, IL — A group of students from the Delta Upsilon Fraternity at Culver-Stockton are getting a taste of what its like to be homeless. This in an effort to bring awareness and raise money.
The student volunteers say it is something their fraternity has done for almost three decades.
Every year the fraternity picks a different organization to raise money for.
This year they raising money for 2×4's For Hope, a local organization who builds tiny homes for local veterans.
"Last year we were able to raise about $1200. This year we are looking to raise about $1500 which is our goal," said Dalton Myers a student and fraternity member at Culver-Stockton.
The group will be spending the night in cardboard boxes at Hy-Vee Saturday night.
2×4's For Hope Founder Mark Lawrence has spearheaded many community efforts to build tiny homes for veterans in our community.
"What we are doing here in our community and the community around us, is giving them a hand up not a handout. We are giving them a new start, we are giving them a reason to continue, and a reason to live productive lives in our country," said Lawrence.