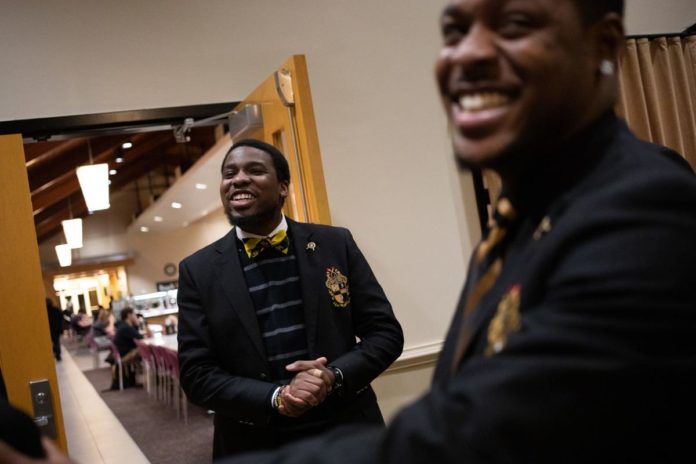 How this seven-member University of Lynchburg fraternity has remained through thick and thin
Davion Washington Jr. never thought he'd join a fraternity.
"I hung around a lot of guys that were in them, but I never thought they were for me," he said. "Until I heard about Alpha."
Washington, now a junior at the University of Lynchburg and the current student body president, is talking about Alpha Phi Alpha, a historically black, national fraternity that works to serve and advocate for the black community.
Since its founding in the 1990s, the Sigma Pi chapter of Alpha Phi Alpha Fraternity Inc. at the University of Lynchburg has persisted despite the constant struggle to grow and retain members. Its current members and alumni hope to combat that struggle with a solution that involves expanding the chapter.
'Up to the challenge'
Alpha Phi Alpha was founded in 1906 at Cornell University by seven black men.
For a group of black men to come together at a predominantly white institution in the early 1900s, Washington said, was iconic.
"Those men weren't allowed to join white organizations. They just weren't allowed to," Washington said. "So they created their own; they created their own safe space."
Darian Geddis, a member of the chapter, said the national fraternity gives its members the opportunity to be surrounded and supported by successful black men.
"It's very awesome to see people who look like me be represented," Geddis said. "From professional to entertainment to the medical field to law offices, Alphas are leaders in all of those fields."
TJ Harvey, the chapter's current president, said with alumni of the fraternity including Martin Luther King Jr. and Thurgood Marshall, it's important to the chapter to show black youth that post-secondary education and success is possible for men of color.
The Sigma Pi chapter exists at the University of Lynchburg thanks to Byron Steward. Steward founded the chapter in 1992 at what then was Lynchburg College.
Steward grew up in Lynchburg and said he'd never even heard of fraternities until he attended Virginia Tech for his undergraduate degree. After earning his degree, he returned to Lynchburg and joined the graduate chapter of the fraternity that is based in Lynchburg. He immediately began working to make an undergraduate chapter available for Lynchburg College students.
"I felt that the same benefits that those brothers found 100 and some years ago, on a college campus of predominantly white males, with some scholars who were very intelligent but were persons of color, could benefit students here," Steward said.
Melvin Brown III was one of two members in the chapter in 2012. He was a junior at Lynchburg College and the other member was a senior. When that member graduated, Brown became the chapter's president and only member. Before graduating in 2014, Brown brought in three new members who kept the chapter alive for a short time.
From 2015 to 2018, the chapter had no members, but its charter remained intact.
In 2018, as a member of the graduate chapter, Brown became the adviser for the undergraduate chapter. Brown said he was tasked with rebuilding and growing the chapter, much like he had done when he was a student.
Brown found three students who were interested in joining the chapter at UL: Washington, Harvey and Geddis. They were initiated in the fall of 2018 as the first initiates the chapter had seen in three years.
Harvey, now a junior at UL, said raising money and awareness of the chapter on campus and in the community was a team effort.
"I told them that it'd be a lot of work," Brown said. "They were up to the challenge and, so far, it's been amazing to watch."
The three brought on four new members this fall.
While the fraternity is historically made up of black men who advocate for the black community, it is interracial. The chapter currently has one white member.
"As long as they believe in our mission of advocating for the African American community and they're passionate about that, of course we want them in our chapter," Steward said.
For the first time in its history, the chapter has seven members this year — the same number of men who founded the national fraternity at Cornell. To celebrate, the chapter's members decided to do something special.
They decided to start the fraternity's historic pageant on campus. The Miss Black and Old Gold pageant recognizes the work and achievements of women in the community.
In December 2019, three women competed in the university's first Miss Black and Old Gold competition, and UL sophomore Stephanie Brown was named the winner. She received a $300 scholarship from Alpha Phi Alpha, and went on to compete for the state Miss Black and Old Gold title in January. She was the first runner up.
Drew Pelkey, coordinator of fraternity and sorority life at the University of Lynchburg, said there are five fraternities and six sororities currently active at the University of Lynchburg. Sixteen percent of the student population is involved in them. Of those, two sororities and one fraternity are part of the National Pan-Hellenic Council, or the nation's nine historically African American Greek lettered fraternities and sororities.
Harvey said the chapter has struggled, like other Greek organizations, to recruit members, as students and particularly students of color, show a lack of interest in Greek organizations.
Pelkey said the interest in Greek life is decreasing even at the national level, so those organizations are having to consider what their presence on campus is and how to get their communities involved.
Servants of all
Melvin Brown said Alpha Phi Alpha is different than many of the fraternities portrayed in movies and television shows. While Greek life often is filled with partying and an abundance of resources, Alpha Phi Alpha remains focused on service, education and the black community.
"Our goal is to be servants first," he said.
Part of that, Melvin Brown said, is the chapter's work with local middle and high school students. Members of the chapter work with those youth to prepare them for college and show them post-secondary education is possible for men of color. Harvey said they visit with students at Fort Hill Community School, an alternative school in the Lynchburg City School district that serves students unable to remain in the traditional classroom setting because of behavioral or other issues, on multiple occasions.
Harvey said mentoring those young men made him feel like he was making a difference in both the Lynchburg community and the black community.
Just to watch those guys go from not going to school and getting into trouble to telling us how hard they were working and how much better they were doing, it really warmed my heart," Harvey said.
Members of the chapter also work to get young adults and members of the community registered to vote, Washington said. Pelkey said on campus, the chapter has a reputation of being involved in the community.
"Partying is just not what we're known for," Washington said. "That's not what we stand for. We're known for being deeply involved in our community."
Washington is busy.
But that's common among members of the chapter. They're resident advisers, they're orientation leaders, they're UL basketball players, they're tutors and they're honors college students. That's what Alphas do, Washington said: They're present in their communities.
It's even part of the fraternity's motto: "First of All, Servants of All, We Shall Transcend All."
Hope for the future
In order to grow the chapter and its effect, members are turning to the community it works to serve.
Steward said he hopes to continue to grow the chapter. He said he hopes they can expand the chapter to become citywide. While the other colleges and universities in the area are too small for the fraternity to charter, Steward said, he hopes to soon be able to allow students from those schools join the Sigma Pi chapter.
"We're working on an agreement so that all those individuals who want to experience the fraternal life as members of our organization have the opportunity to do that because it is charted here as opposed to not being able to do it at all because the population isn't strong enough on their campus," Steward said.
"The only way to keep our numbers as strong as we need them to be is by recruiting young folks in their undergraduate years."