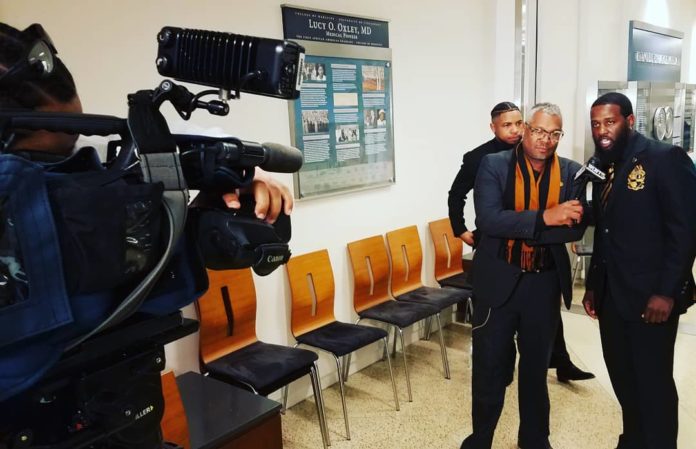 CINCINNATI — Kaniya Page got a lesson in higher education she will not soon forget. The School of Creative and Performing Arts student has a long time before she applies and enrolls in college, but she says the Go to High School, Go to College program has given her some homework to look forward to.
"I learned how to manage my time when I go to college and my time when I go to high school next year, since I am going to be a freshman." she said.

The message is to first go to high school then on to college, and it is shared by the Alpha Phi Alpha Fraternity.

Frat member Rayshawn Walton says the go-to-school community service project is in line with the aims of the 105-year-old-organization.
"We're first of all, servants of all, transcending all. We try to do everything we can for our community. We are typically on the front line for everything that we do." Walton said.

Hundreds of young people spent the day on the campus of the University of Cincinnati, getting an introduction to what could become a bright and promising future.

"We have workshops set up for ACT and SAT prep. We have scholarships set up for the kids to learn how to apply beating deadlines and doing everything for that," Walton said.

Beyond the logistics of admission and academic rigor, The Alphas say the program is an outline for success.

"It's very important for them to go to college. If they are having that uneasy feeling if college is for me, this opportunity coming here today gives a full-scale view of what to look forward to," Walton said.

Another Alpha member, Samuel Fowler, knows the personal impact of this program firsthand. He came to the event when he was younger.
"It had a great impact on my life coming up so I knew growing up that I wanted to be a part of the organization, and specifically this committee, to encourage the youth to get your higher education." he said.
The Alphas say the impact of this program goes beyond simply one day, but is a stepping stone and a commitment to lift as they climb.