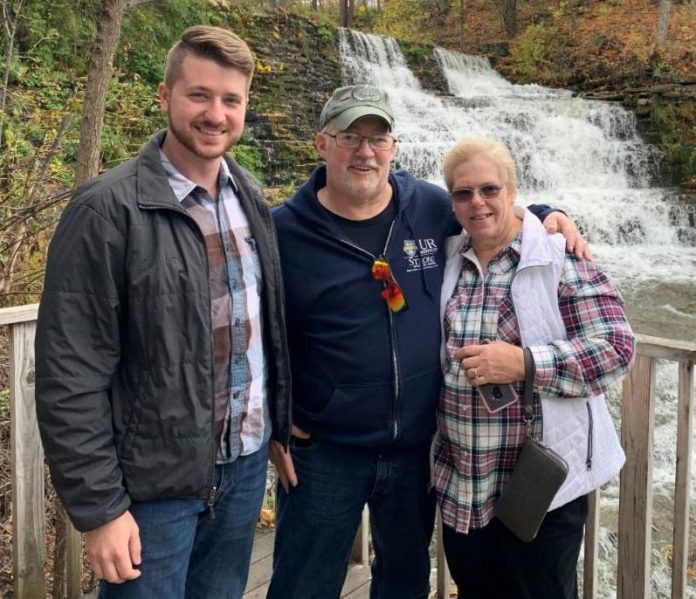 Braden Wilson (Colorado State 13), joined the Be the Match Registry as an undergraduate and went on to serve on the FarmHouse Fraternity staff for four years. During this time he became a bone marrow donor and humbly gave without knowing who the recipient would be. A few months ago, he met his recipient, Larry, and his wife, Kathy, who live in New York.
Kathy shared her story with FarmHouse recently.
"Thank you for all your organization does for others. Through you (FarmHouse) we were connected to Be The Match, and found a donor for a stem cell transplant for my husband Larry, who was diagnosed in August 2018 with Mantle Cell Lymphoma. We found a perfect 100% matching stem cell donor with Braden Wilson."
Kathy goes on to say, "we are so blessed for his donation of stem cells, for my husband, Larry, who is now cancer-free and will be celebrating his 2nd Re-Birthday May 30, 2020. We were able to meet Braden this past year for the first time and he is amazing! We owe him so much for giving Larry a second chance at life. And we feel so blessed to have made a lasting friendship for life with Braden." She added, "FarmHouse has impacted my life because it gave me my husband back. I am inspired to give knowing a fraternity like yours, does so much for others."
Her testament exemplifies the difference FarmHouse men make in this world. While not directly curing cancer, Braden saved Larry's life. And the story goes deeper because the Be the Match Registry was started by the late Bob Graves (Colorado State 53).