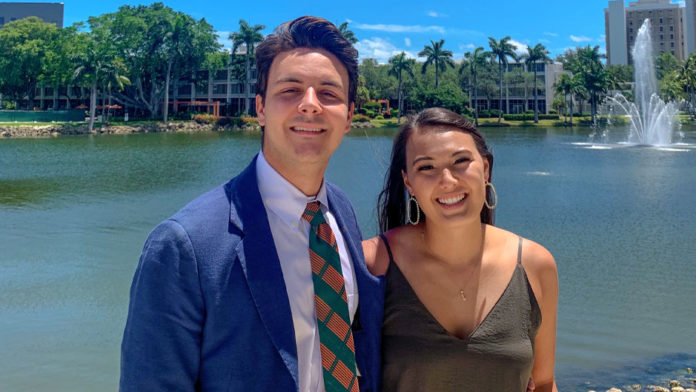 For Tri Delta member Remi Petit, her college experience is one she will never forget. From getting the experience to represent the University of Miami as a Hurricanes cheerleader, to meeting her current boyfriend, a brother of Beta Theta Pi, she said she is thankful to the U for giving her lifelong memories.
"My time at UM was a lot of hard work, but I'm so lucky to be able to have gotten this amazing opportunity. My college experience was everything I ever imaged and more," said Petit.
Looking back at her years at the University, Petit said she will never forget the excitement that football season brought for her.
"College GameDay on campus my sophomore year was so fun and such a cool experience! When our team beat Notre Dame, it was the craziest day. I had never felt more school spirit," she recalled.
Petit said another big part of her college career was her active participation in Greek life.
"I loved being part of Tri Delta. I've held three positions in the organization including social chair, sponsor chair, and the body image coordinator which helped promote a healthy body image," Petit explained. "Being on the executive board was something that was really special for me and was very eye-opening because it unlocked a ton of doors for me."
Greek life also introduced her to her current boyfriend, Alexander Cohorsky, a member of the fraternity Beta Theta Pi. Cohorsky credits the organization for helping him become more adept at networking.
"It was a great experience. I can't imagine going to a school and not being part of a fraternity after knowing what I know now. It gives you so many memories and connections you can't make otherwise," said Cohorsky.
Cohorsky, who also graduated cum laude, had a double major in finance and entrepreneurship. He networked through the connections he made at the University to land a job at Restaurant Brands International in Miami.
"UM prepared me very well for my job. Throughout the years, I have learned how to improve my social skills in and out of the classroom through fraternity events and courses that were part of my entrepreneurial program," he said.
He hopes to one day launch a chain of quick service restaurants in Florida. For Petit, she plans in the next few years to become a marketing manager or director. Looking back at her time at the University, Petit is thankful for the support system that she and Cohorsky provided for each other to get through their academics.
"We spent countless hours studying together in Einstein's. And, it was comforting and motivating to have him with me, even if we weren't studying for the same class. I knew I could always count on him to quiz me, proofread my papers, or help with anything else I needed," Petit explained.
Both have advice for incoming freshman who will begin their journey at the University.
"It's so cliché, but you have to remember to cherish everything because time goes by so fast," said Petit.
"Become a part of organizations early on and figure out what you really want to be dedicated to. At the end of the day, it's important to keep meeting people who can help advance your career," said Cohorsky.