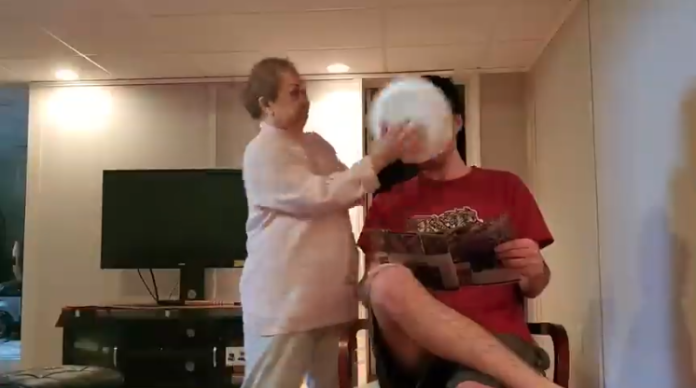 What do TikTok dances, a pie in the face, thank you notes to medical workers, ice buckets, and dyeing hair have in common?
Raising funds.
Last week philanthropy chairs at the College's Greek organizations banned together to organize a Greek-wide fundraiser to support two Easton nonprofits, Family Connection of Easton and Second Harvest Food Bank.
Each day a fraternity and sorority partnered to create fun and wild challenges that featured their members doing outrageous stuff and sharing it on social media.
The daily fundraising goal was $1,000.
To say they eclipsed that entirely is an understatement.
During the course of the week, they raised over $27,000.
They even inspired President Alison Byerly to make an album cover and get pied in the face!
"During this time of unprecedented hardship, we bonded together to help aid COVID-19 relief in Easton, and in return, we felt connected to one another despite many of us not being on campus," says Sam Scott '22. "We are stronger together. Not one person or one organization could have accomplished what we were able to raise as a collective whole. I am completely blown away by the generosity and support of the Lafayette community."
"We're all so grateful for everyone who helped organize and spread awareness to the fundraiser, for everyone who completed the challenges, and for all those who donated because the outstanding success wouldn't have been possible without everyone who contributed," says Brian Kaufmann '21.
Here's a recap of the organizational partners, challenges, and dollars raised:
Monday: Alpha Gamma Delta and Chi Phi
Challenge, AGD: For every $25 raised, three to five members will post a funny throwback photo.
Challenge, Chi Phi: For every $20 raised, members will send five heartfelt thank you letters to health care workers.
TOTAL: $3,700
Tuesday: Alpha Phi and Delta Kappa Epsilon
Challenge: For $250 raised, members will run a mile; $500 raised, members will learn a TikTok dance; $750 raised, members will do an ice bucket challenge; $1,000 raised, members will shave mullets/dye hair.
TOTAL: $2,679
Wednesday: Delta Delta Delta and Delta Tau Delta
Challenge: For every $5 raised, members will post a video of them getting drenched in water ("Drench the Delts").
TOTAL: $3,401
Thursday: Delta Gamma and Delta Upsilon
Challenge: Recreate album covers in TikTok, releasing one video of a compilation of all individual members at the end of the day.
TOTAL: $4,100
Friday: Kappa Kappa Gamma and Phi Kappa Psi
Challenge: An auction of some art made by Kappa and Phi Psi artists; with every $25 raised, a cute picture of their pets dressed up in outfits will be posted.
TOTAL: $5,210
Saturday: Pi Beta Phi and Zeta Psi
Challenge: Members will post $30 Venmo boards, and once filled, they will post a video or picture on social media of them getting pied.
TOTAL: $8,079