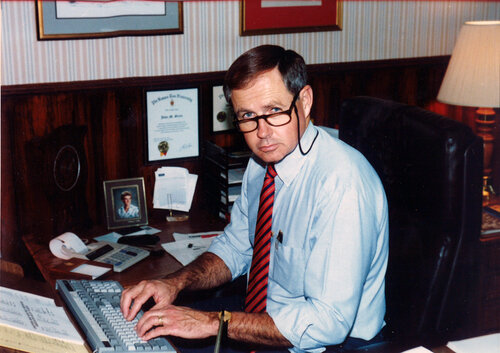 28 July 2020: Oxford, Ohio – John M. Green, Nebraska Wesleyan '60, a member of the Phi Kappa Tau Hall of Fame, entered chapter eternal on July 26, 2020 from injuries sustained in a fall. During his sixty years of membership in Phi Kappa Tau, John Green became one its most outstanding leaders and held nearly every important volunteer and staff leadership role in the fraternity. "Our fraternity has truly lost one of our icons. He will be missed but long remembered" said National President Bill Brasch, Louisville '67
Born February 10, 1942 in McCook, Nebraska, John was an outstanding student leader at Wauneta High School before entering Nebraska Wesleyan University in the fall of 1959, where he pledged the Upsilon Chapter of Phi Kappa Tau along with Tom Cunningham, Nebraska Wesleyan '60. They both would go on to significantly impact the Fraternity throughout the rest of their lives.
After a stint in the Navy, which began a long and distinguished career in the U. S. Navy Reserve, it was Tom Cunningham who suggested that John get involved in the national fraternity. He famously attended the 1966 National Convention at the Grand Hotel on Mackinac Island on his honeymoon with his new bride, Joan, a graduate of Drake University where she had been president of her Delta Gamma chapter. By 1968, John was a Domain Director and in 1970, he was elected to the National Council. In 1979, John was elected Vice President to National President Tom Cunningham, the first and only time in our history where members of the same pledge class served together as President and Vice President. John was installed as president at the Diamond Jubilee Convention in 1981, completing fifteen years on the National Council in 1985. During his time on the council, the fraternity went from some of the most challenging times in our history to the completion of the Phi Kappa Tau Foundation's record-setting capital campaign, which had been conceived by John and a small group of fraternity leaders.
When the Fraternity Executive Director job came open in 1987, John became a candidate and when offered the job, decided to leave a long career in banking and the presidency of his family bank in Nebraska and move his family to Oxford, Ohio. He often said that the "job seeks the man" and when asked to take on a challenge he considered it. John took on Phi Tau's top staff position with gusto and is particularly remembered for the innovative educational programs developed during that time including a national Leadership Academy, begun in 1988 and TEAM Discovery weekends. He was also instrumental in establishing the SeriousFun Childrens Network (a group of camps for seriously ill children) as Phi Kappa Tau's national philanthropy. John showed real leadership not only in Phi Tau but among our peer Greek organizations as an outspoken opponent of hazing and substance abuse and was at the forefront of developing the risk management policies and insurance programs that have been critical to the Greek world.
John left the fraternity staff for the opportunity to work with one of his other life-long passions, golf, in 1998. He had become an investor in the start-up Indian Ridge golf course in Oxford and took on a new challenge of running the course. But when the opportunity came to return to the staff of the Phi Kappa Tau Foundation as executive director in 2001, he accepted the challenge and threw himself all in, providing staff leadership to a second successful capital campaign for the Foundation. Retiring for good from the staff in 2007, he remained active on the Foundation board, serving several terms through 2018.
For more than half a century, John Green served in a leadership role in Phi Kappa Tau. He made countless friends and mentored an incalculable number of young men along the way who all consider themselves better for having known John. "A dear friend and mentor, John shaped the lives of so many young men. Our Fraternity, and indeed our world, is better for the impact he made" said Foundation Chairman, Wes Fugate, Centre '99.
And for all of his passion for Phi Kappa Tau, John was far from one-dimensional. He was a devoted family man, leaving his wife Joan, his son Matt and daughter Lee Anne and their families to carry on his legacy. And along with his family and his fraternity, he loved his community. He was a former president of the Oxford Rotary Club and was its Rotarian of the Year and he headed the boards of Maple Knolls of Cincinnati and the Knolls of Oxford retirement community where John and Joan made their home in recent years and hosted several Phi Tau alumni events.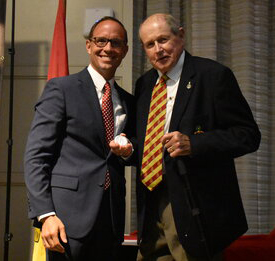 He was recognized for his contributions to Phi Tau with the Palm Award and as an inaugural member of the Hall of Fame, among many others. The John M. Green Golf Classic to raise funds for SeriousFun Children's Network was begun in his honor in 2013. He was recognized for his contributions to the interfraternal community with the North American Interfraternity Conference Silver Medal in 2019, the first Phi Tau to receive this award.  "Beyond all of his many accomplishments, John stood at the ready to be a sounding board of immense wisdom, measured and fair in delivering necessary criticism, and always made the effort to be uplifting." says Phi Kappa Tau CEO, Tim Hudson, Truman State '97.  "His steady guiding voice and friendship will be deeply missed."

While John leaves a legacy of family, business, military, and community achievement, he will be remembered for his boundless energy, his good humor, his unwavering belief in the basic goodness of people and for living by his often-repeated creed: "Do the right thing, because it's the right thing to do."
John's obituary can be read here. The family asks that in lieu of flowers, a donation be made to one of his preferred organizations – Hospice of Cincinnati, the McCullough Hyde Memorial Hospital of Oxford, or the Phi Kappa Tau Foundation. Gifts can be made to the John M. Green Memorial Scholarship Fund here.