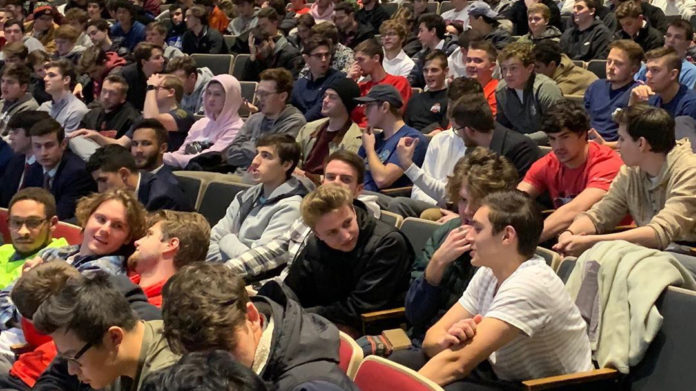 Popular culture is littered with depictions of what it is like to be in a fraternity – from Freeform's original title, "Greek," which focuses on a group of fraternities and sororities on a fictional campus in Northwest Ohio that ran from 2007 to 2011, or the "Neighbors" film franchise (2014 and 2016), focusing on a couple that has a rowdy frat house move in next door. Despite the picture that popular culture paints of Greek life, there is more than meets the eye.
According to Hunter Hartwig, assistant director of sorority and fraternity life at The Ohio State University in Columbus, and Timeka Rashid, assistant vice president of inclusive student engagement at Cleveland State University in Cleveland, students have a lot to gain when going Greek.
"When students ask the No. 1 reason to join a fraternity or sorority when they come to college, it's that they want that home away from home feeling while away at school," Hartwig said. "They are looking for a space where campus feels smaller for them, where they can build connections. The underlying theme here is they are looking for friendship. What makes it different from joining another student organization on campus is that brotherhood and sisterhood is something we say lasts a lifetime and doesn't end when you graduate."
Rashid said the groups represent the fabric of what all student organizations.
"No. 1, you're able to meet new people, and No. 2, you're able to meet new people from diverse backgrounds," she noted. "There are opportunities where you can pledge a fraternity or sorority to be with like-minded people, but within interacting with the different councils on campus, you're able to meet new people. It's also a great opportunity to network and strengthen and enhance your leadership skills."
In respect to leadership skills, Rashid added it isn't uncommon for members of Greek organizations to hold other leadership roles across campus.
"Many times, members of these groups are your leaders in different areas like resident assistants or advisers or members of the student government," she said.
But their role in the college community doesn't start there, the educators said. The foundation of Greek organizations lies in service and philanthropy, allowing students to get into the community surrounding their school. This helps members build connections for life after college, Hartwig noted.
"I've always said fraternities and sororities are a microcosm of real life, teaching students a lot of skills," he explained. "A lot of these groups are based in philanthropy and we want students to go out after graduation and positively change their community. A lot of people promote the networking that occurs within Greek life. It allows you to not only get well connected on campus as 85% of Ohio State students in Greek organizations are a member of another organization on campus. It makes them connected in and outside of the campus."
With that in mind, both Rashid and Hartwig said there is merit to rushing, or exploring the idea of going Greek, as a freshman. But, students are also welcome to pledge, which is a period of new member education, as a sophomore or junior. This opportunity is helpful as some schools have credit and GPA requirements.
"If students were getting acclimated to college life in their first year, this gives them time to get prepared for taking on another new experience," Hartwig explained. "It gives them the time to get to know different organizations on campus, and talk to other students or peers, giving them the time to window shop and make a good decision when going through the recruitment."
But when choosing, shopping around Greek organizations is easier said than done. At Ohio State, there are over 30 different chapters, and at Cleveland State, students have over a dozen groups to choose from. To avoid feeling overwhelmed, students should seek guidance at the university level for advice.
"I'd start with asking to be out in contact with the president or particular adviser of a sorority or fraternity chapter," Rashid said. "Our staff will say, 'sure, here is their web page and their social media page, and contact information.' This allows students to learn more about the organization and how it works. Once you identify one or two that align with your values, then you can dig a little deeper and ask our staff to get you in contact with the right people. I encourage interested students to ask for help."