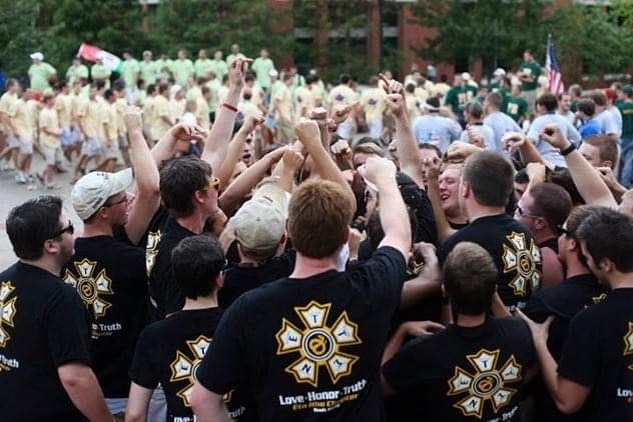 Why did you join Sigma Nu? It's a question most alumni have been asked many times, and for each alumnus it is as relevant today as the first time we were asked. 
For most of us, joining Sigma Nu was about belonging – fitting in; being a part of something more; compatible. Specifically, belonging means "happiness felt in a secure relationship." That sense of belonging feels good. It is motivating, inspires us to action, and plays an important role in the development of our self-identity. Most of us can think back to our collegiate days and recognize the effect that sense of belonging had on us. How important is belonging to us as alumni, though? 
In a 2019 Psychology Today article, "The Importance of Belonging Across Life," Dr. Kelly-Ann Allen and Dr. Peggy Kern identified the importance and potential effects of belonging. "Across adulthood, relationships play an important role in physical and mental health, although the sources of belonging often become disrupted, shift, and evolve. Societal changes; shifting social roles, networks, and expectations; and increased responsibilities influence the way we form bonds and friendships…People may experience a changing social identity in adulthood and question where they belong and with whom they belong."  
The importance of belonging does not lessen as we age. Dr. Allen and Dr. Kern continue, "A sense of belonging remains important in older age. Social relationships support healthy aging, helping to buffer feelings of loneliness, isolation, and related negative outcomes; providing emotional and instrumental social support; and offering a source of meaning and purpose."  
Many of us experienced a disruption, or shift, in our sense of belonging when we left our collegiate chapter and entered the alumni ranks. Our experience shifted from "living" fraternity daily to not. That is not to say that we disregarded our fraternal oath and principles, but, rather, that Sigma Nu was no longer at the forefront of our daily experience.
There is a special reality to being a brother of Sigma Nu – it never goes away. Love. Honor. Truth. These principles influence the daily lives of all brothers, collegiate and alumni. The friendships built in the collegiate chapter persist over time…even when chapter brothers lose contact the speed with which those relationships re-establish themselves when brothers reunite is uncanny. The recognition of our insignia alone can serve as a catalyst to creating new friendships – I have lost count of the number of brothers I have met walking through airports over the years. 
When my grandfather retired from the United States Marine Corps, I recall him saying, "Once a Marine, always a Marine." It is a simple statement with a big punch. He described its meaning as, once you make that commitment, you are always committed – you are here for the Corps, and the Corps is here for you. The same is true for membership in Sigma Nu.
Your membership in Sigma Nu is for life and the Fraternity is here to support you, for life. In fact, The Way of Honor rephrases that Marine Corps adage in Sigma Nu terms, "Ours is a fraternity for life." Put another way, you belong here. So, tell me, why did you join Sigma Nu?