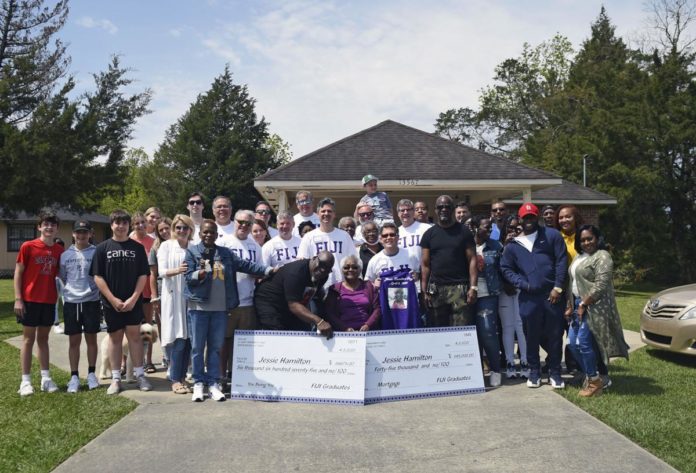 Jessie Hamilton was serenaded by a group of men she cared for as college students 30 years ago, as she walked outside her home to a surprise 74th birthday party. Many of the men drove across state lines with their wives, children and dogs to show just how much of an impact Hamilton had on their lives.
About a dozen members of Phi Gamma Delta, better known as Fiji, and their families surprised Hamilton Saturday with the money to pay off her mortgage for her 74th birthday.
Hamilton started working at the age of 14 in 1961 with her mother, cleaning houses. She says she has worked two or more jobs since then to make ends meet and care for her family.
Hamilton worked for 14 years as a cook to the Phi Gamma Delta fraternity at LSU. She later moved on to custodial services at the airport, where she works now.
Will Rainey, a Fiji brother who attended LSU in the mid to late '80s, said the brothers formed a special bond with Hamilton that's hard to explain.
When she worked at the fraternity house, brothers could depend on Hamilton for rides to the grocery store and the doctor, Andrew Fusaiotti said. She was a warm smile and warm meal every day for 14 years, and that left an impression on the college students she cared for, even 30 years later.
Hamilton purchased her first home at the age of 60 and took out a 30-year mortgage. With 16 more years left to pay on her mortgage, Hamilton's plan was to continue to work two jobs until her house was paid off.
At the start of the pandemic, Fusaiotti, a Fiji brother who attended LSU from 1987-89, called Hamilton to check on her. Fusaiotti has kept in touch with Hamilton over the past 30 years.
Fusaiotti, disheartened at the fact that Hamilton was still working two jobs at her age, had the idea to raise money through his frat brothers to pay the rest of Hamilton's mortgage.
Fusaiotti and 90 brothers raised $51,765 for Hamilton. On average, each brother donated between $600 and $1,000.
"That shows how they all felt about her," Fusaiotti said. "Jessie is one of these people that shows up to work and always has a smile on her face, eager to please and never complains."
In a Fiji style game of Let's Make a Deal, the brothers presented Hamilton with two checks: $45,000 for her mortgage payment and $6,675 for herself, as well as T-shirts, koozies and catering for her birthday party.
The brothers called it "Jessie Hamilton Day."
Hamilton is now able to retire, and her plan is to sit at home and enjoy it, she said. As soon as its safe for her to travel, she plans to vacation in Hawaii.
Hamilton has a strong faith and that's what helps her get through, Fusaiotti said. She raised three kids on low-paying jobs.
"She is the type of person that inspires me, people that don't have a lot, but give a lot." Fusatti said. "She's the most giving person you've ever met."
At her birthday party, Hamilton recalls a saying from her father: "When you do right, it'll be all right. You just have to trust God."
"This has been a blessing to me," Hamilton said. "I have been worrying about how I was going to pay my house off. I am grateful for what God has done and has led them to do for me."
"Andrew answered my prayers," she said. "He's my guardian angel."