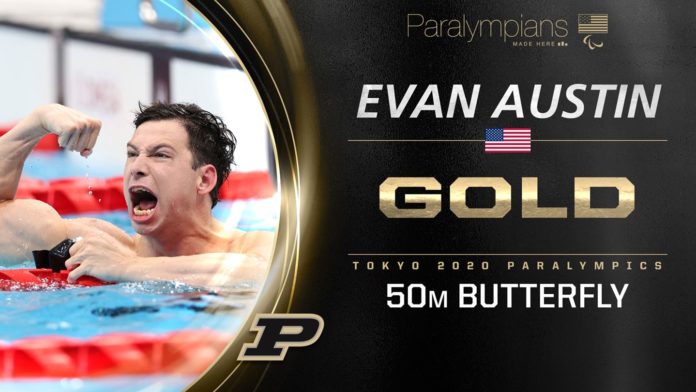 TOKYO – Evan Austin, alumnus of Pi Kappa Phi, completed his journey from world champion to Paralympic Games champion, emerging victorious in a hotly contested race via an American-record time to win gold for Team USA in the 50-meter butterfly (S7).
Austin was the top finisher in the prelims (29.71) and final (28.98) of the event, but it took a time drop of .73 hundredths of a second in the final to out touch Ukraine's Andrii Trusov (29.03) by .05 hundredths to claim the gold medal. He established an American record while eclipsing 29 seconds in the final.
Competing at his third Paralympics, Austin won his first medal Sunday by taking bronze in the 400-meter freestyle (S7). It was another thrilling race to the wall that saw him out touch the fourth-place finisher by .04 hundredths. Austin also placed fifth in the 200-meter IM (SM7) in his first event in Tokyo.
"A lot people might feel pressure. I actually felt the opposite. I felt some freedom," Austin said. "Being a world champion, even if it's just for that day, that's the title that sticks with you. And so, on a day that I was asked to be the best in the world, I had already done that. All this stuff now is a bonus. Paralympic champion is obviously something I wanted but I just came in with the mindset that we'll see what happens. I was just excited to get the opportunity to race. I knew I was going to be in the fight, and I was going to really have a shot at being a Paralympic champion."