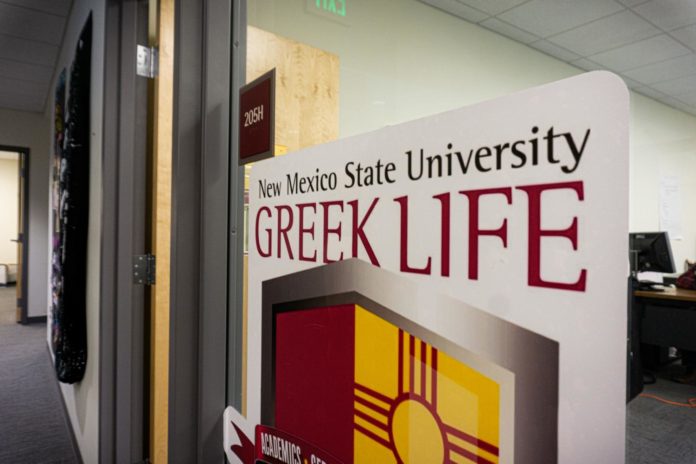 Fraternities and Sororities around New Mexico State University are in full gear of Spring recruitment season and over time it's possible that the many stereotypes that come with Greek Life culture can become an obstacle to them as they continue to recruit students to go Greek.
The Coordinator & Risk Management of Fraternity & Sorority Life (FSL), Abby Howard invites students who are considering entering Greek Life to ask questions rather than making assumptions, so they can better understand the Greek Life here at NMSU.
"Everyone needs to at least come for Rush…it changes a lot over the years, and I know it changes my life. I never thought of being in the Greek Life, and now I love it," Garret Garcia said, who is a member of Tau Kappa Epsilon.
The growth of TKE during the last year is something Garcia is proud of, for not only himself but his brothers—a fraternity that began with five members to a group of 32.
Brandon Saenz, who is a member of Sigma Chi–acknowledges the stereotype of partying and drinking comes with being part of a group or a fraternity, but that's not all that it is. Sigma Chi focuses on philanthropy and community service.
Social Greek Life are one of the options to be involved in during a college career. There are also Honors and Professional organizations to gain networking and leadership skills. Delta Sigma Pi is a business Greek organization that has multiple different opportunities like interview simulations, attending conventions which help members develop business projects that develop critical thinking and more.
Being a member can be time consuming, and that's why majority of members develop the ability of time management. Greek Life is run and made up of students who take the initiative and responsibility to grow the community.
Greek Life has created a big impact in the surrounding community. In 2020, the FSL students gave over 3,950 hours in community service and donated over $10,600 to philanthropic organizations, according to Howard, which included Chi Omega who partnered with the Make-A-Wish Foundation.