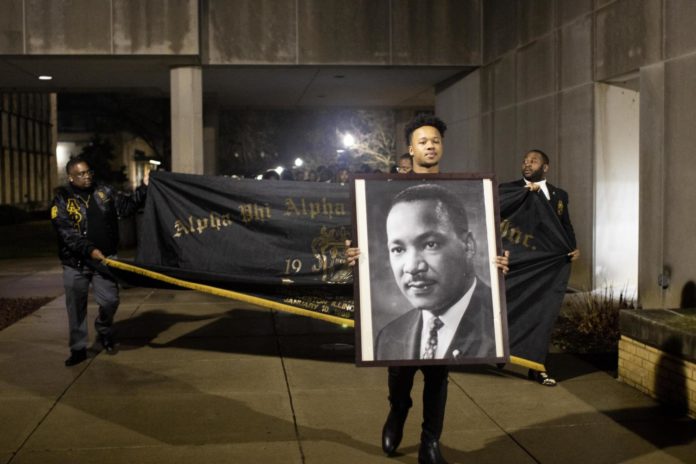 Members of Alpha Phi Alpha Fraternity Inc., hosted a Martin Luther King Jr. vigil and ceremony. The event started at 5 p.m. at Thomas Hall.
Members of the Alpha Phi Alpha Fraternity Inc., put sign boards with words such as "Equality and "BLM" which allowed students to write their own messages, some of which read, "Women's Rights" and "Keep the dream alive".
After signing the board, those who attended were instructed to grab a cup with a candle glued inside them that were available. Those in attendance walked with their candles to the Martin Luther King Jr. Union.
Songs such as "This Little Light of Mine" and "Ain't Gonna Let Nobody Turn Me Around" were sung by audience members while walking to the MLK Jr. Union.
Member of the Alpha Phi Alpha Fraternity Inc., Nick Trimble, and a senior psychology major, spoke about why the vigil was so important.
"The reasoning for this vigil march is to keep up the tradition of honoring our late brother Martin Luther King Jr.," Trimble said. "[The vigil march] is to uphold his legacy, striving towards equality and peace. It is also to shed light on and recognize his accolades when he was alive."
Trimble also said that the goal of the event was to allow students to be more knowledgeable about King Jr., and to know more about his journey and how much of an impactful he had.