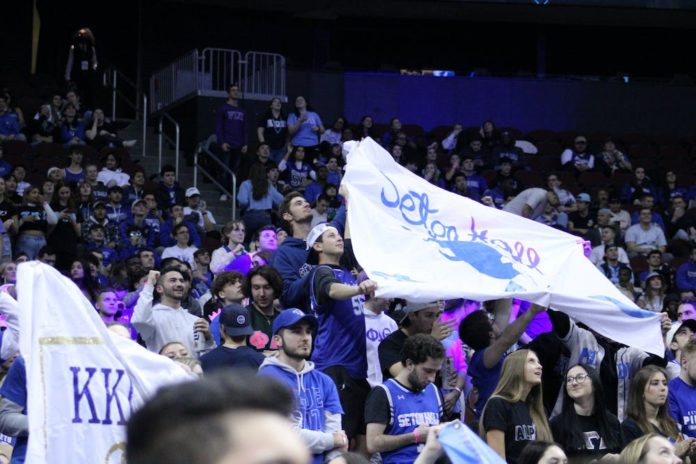 Sororities and fraternities of Seton Hall came together at the Prudential Center for the annual "Greek night" men's basketball game on Nov. 16.
Kaylie Smith, a senior biology major, is a sister of Zeta Tau Alpha and has been attending Greek night since becoming involved in the organization. She said this year's Greek game was different from previous years.
"This year, they did something special to honor the presidents of each organization," Smith said. "So, just as a little outgoing ceremony, they let the presidents go out on the court, and I just thought that was really neat."
Smith also said the Greek game sets itself apart from other basketball games because of the large attendance from students.
"There's also a pre-game reception that they do for Greek students where they give us food and drink, and we all get to congregate together before the game starts," Smith said.
Smith said the Greek game allowed her and her sisters to come together by wearing their sorority letters and painting a banner for the game.
"There's a sense of comfort for certain people, especially in an organization, too, knowing that you're going to have people there," she said.
Smith said the Greek game has a way of uniting the sororities and fraternities as an organization and a community.
"I think it's really neat that each organization is there sitting with everyone, and you get to show your pride," Smith said. "Although we are sitting separately, I do think that there is unity with it because we're all there supporting our school and showing our school spirit."
Tykhil Greene, a senior accounting major, is a brother of Phi Gamma Delta. As a commuter, he previously did not have the chance to attend many basketball games, he said.
"This was actually my first Greek game," Greene said. "It's a great opportunity for the frat to show up, to show off how we are in terms of a community, as well as going and representing ourselves and having a great time with everybody else there."
Greene said the Greek game helps expand the presence of Greek organizations within the Seton Hall community.