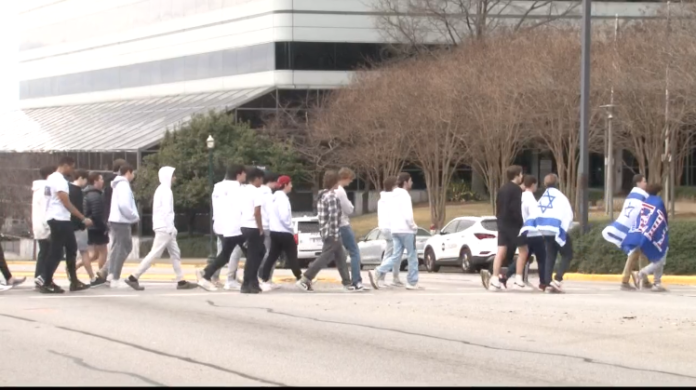 A group of students gathered on Sunday to walk and learn about the genocide that took place decades ago.
COLUMBIA, S.C. — The University of South Carolina's Alpha Epsilon Pi fraternity hosted a walk of remembrance on Sunday along with family members of Holocaust victims and survivors.
It's a cause that means a lot to Barry Klarberg, the president of the Gamma Chi Chapter of USC's Alpha Epsilon Pi fraternity. On Sunday, his brothers started their day with a mile-long walk through Downtown Columbia. It's the second annual walk of remembrance spreading awareness and carrying the legacy of those lost during the Holocaust. Klarberg is the great-grandson of both Holocaust victims and survivors.
"I saw that impact on them, I heard their stories and I saw the physical impacts that had on them," he said. "I know we have other brothers who share those experiences, sharing those words, spreading that message – that's why we do it."
The group started at the State House, gave brief remarks about the importance of Holocaust remembrance, and then began walking to Memorial Park in Columbia, displaying stars of David and Israeli flags.