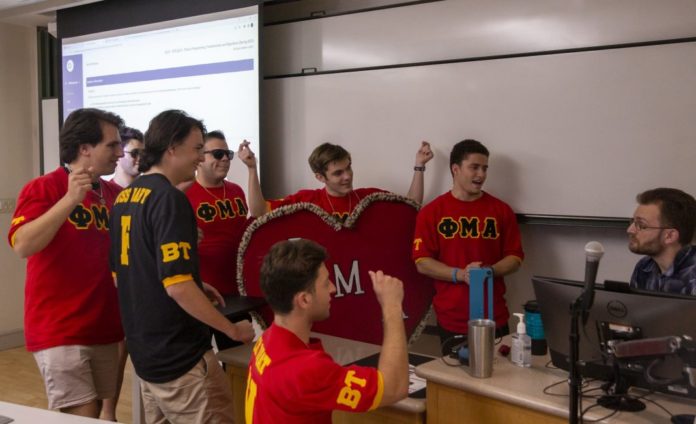 Love is in the air and in UM's classrooms this valentine season. Continuing a 20 year tradition, the music fraternity Phi Mu Alpha Sinfonia has been singing their way through campus this February, serenading love songs to unsuspecting students.
Nearly selling out all deliveries, the demand for this year's singing Valentine's is the highest it has ever been. Last year Phi Mu Alpha raised approximately $1,500 for their fraternity. This year they are anticipated to surpass that amount by over 40 percent.
In a span of just one month, they've learned the songs, auditioned and chose soloists, and memorized the repertoire to prepare for the deliveries that began on Friday, Feb. 10. This year they're offering two more songs for customers to choose from in addition to their original four.
Each delivery comes with a personalized note and a rose for the receiver. Phi Mu Alpha even held a giveaway for a free singing valentine on their Instagram page last week.
Junior and Phi Mu Alpha vice president Gabriel Perez joined the fraternity his freshman year. He organized the fundraiser and says it's one of the traditions he looks forward to most every year.