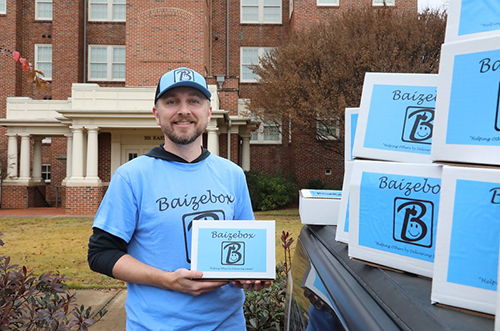 The importance of helping others drives Landon Baize (Delta Tau Delta, LaGrange College, 2008) in his mission to deliver necessities to those in need. Since 2020 he's channeled his efforts into Baizebox, the nonprofit he founded to collect and distribute care packages to individuals in underserved communities.
Through his volunteer work with Special Olympics of Henry County in Georgia over the past nine years, Baize has helped individuals from age five to 80 and up, but he felt he needed to do more. In conversations with his Special Olympics contacts he learned certain essential items are often an unmet need for individuals with disabilities.
"We came up with a list of nine items to put in a box—necessities those living in group homes often can't afford but absolutely need," Baize said. The Baizebox is a collection of donated items including a bar of soap, shampoo, conditioner, lotion, toothbrush, toothpaste, socks and a brush and/or comb.
Distribution began in 2020 at the height of the COVID-19 pandemic with dropping boxes on the porch. "They couldn't go buy these things, so it was actually a perfect time to just go ahead and start," Baize said.
He just finished the third year of distribution growing the distribution from 150 boxes in 2020 to 250 boxes in the fall of 2022. "We're slowly increasing because a lot of people want to donate," Baize said. "A lot of people want to help. I don't accept any money, any cash, any check, any wire transfers, any gift cards, none of that. Only the items. It's a nonprofit. I'm not making any money on this. I don't want people to question where their money's going."
Baize pays for the boxes and the labels and accepts donated items to match the identified needs. He started with connections from family, close friends and those in his network reaching out through social media.