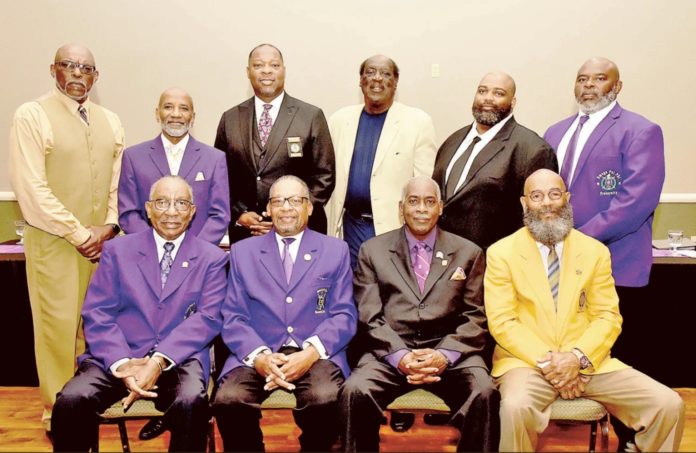 West Volusia's only active alumni fraternity, the Iota Kappa Kappa chapter of Omega Psi Phi, a historically Black fraternity, is here for the community, members say.
Omega Psi Phi is part of the "Divine Nine," a group of nine historically Black Greek Letter organizations, including the Alpha Kappa Alpha and Delta Sigma Theta sororities, both active in the DeLand area.
The DeLand chapter of Omega Psi Phi was originally started in 2020 by a group of five, but has since grown to 24 members working on the fraternity's essential mission: Making a positive impact on the local community.
"We see a need in the community. There are no other male alumni graduate chapters — no active alumni fraternities in West Volusia at all," Basileus (a Latin term meaning "king") Robert Wilson said.
The West Volusia chapter was created by some former members of the Daytona Beach chapter, which is still active, to address needs on this side of the county.
"The divide is still here — DeLand is still DeLand. Other than tremendous amounts of growth, Black folks are still living the way they were 20, 30 years ago," member (and former DeLand Police Chief) William Anderson said. "The needs in DeLand are tremendous. If not addressed, it manifests in a crazy way. … We can make a greater impact here than where we were."
In November, they hosted an essay contest for high-school seniors, providing scholarships to the winners and sponsoring trips to the fraternity's district-level meeting, held this year in Alabama. This year, like last year, they will host an Easter egg hunt in Spring Hill Park in DeLand. And they provided full turkey dinners during Thanksgiving to local churches.
The group has some primary goals: leading voter registration drives, addressing health needs that disproportionately affect the Black community, and mentoring young men.
"When our parents were young, they understood the value of voting. But society has changed," Keeper of Records and Seal Dwayne Murray said.
"People don't feel represented — look at our local elected officials, like the County Council, and our public administrations," Anderson added.
"We need to change that mindset," Murray said. "People will vote for president, but they don't influence your life as much as local officials do. The president doesn't come and fix the streets."
One of their most important goals is mentorship, members said.
"I taught school for some years, and I learned you have a crazy kid, you go knock on the door where they live, there's more crazy people in there," Murray said. "We need to mentor young men, teach them that men have a place in the world."
Murray, like other members, has an impressive résumé — he is a former fire chief of Birmingham, Alabama.
"You're talking to successful men," Wilson said. "When you are a member of this organization, there are expectations for your behavior."
"Anything you wouldn't do in front of your mother and your pastor, don't do it, even if you are alone," Murray added. "I tell kids to imagine they are wearing a shirt with their mama's face on it."
The chapter of Omega Psi Phi is active throughout West Volusia.