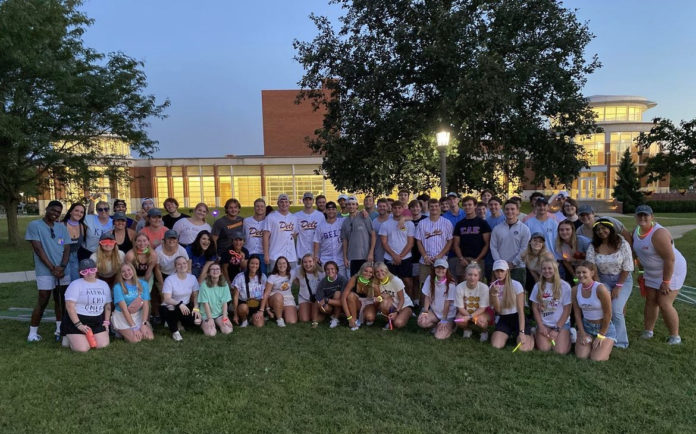 Navigating the social scene at DePauw through Greek life comes with the promise of lasting connections, personal development, and a shared bond of siblinghood. With approximately 62 percent of students involved in this integral part of the "DePauw experience," it naturally becomes a subject of curiosity even within the community of international students at DePauw. 
However, deciding to be part of the fraternity and sorority life at DePauw can seem daunting for most international students because of the lack of knowledge surrounding this element of DePauw's college experience. For most, Greek life simply adds to the many culture shocks of being in the U.S. The idea of finding a sense of belonging in a Greek house and developing sisterhood and brotherhood is an unfamiliar concept for students who grew up outside the North American region.
The general student population decides early on whether or not they resonate with Greek life at DePauw. On the other hand, international students who are already struggling to assimilate into American culture, are instantly at a disadvantage in terms of understanding and taking part in Greek life. Understanding how sororities and fraternities work can be puzzling especially if one never grew up knowing what they actually are.
First-years Samip Devkota, Astitwa Wagle, and Bibhav Basnet from Nepal, members of Delta Upsilon (DU), admitted to having extremely biased opinions and negative stereotypes reinforced by pop culture.
Similarly, Tapan Mandal, another first-year from India said, "My knowledge of Greek life was based on American Pie, and I always thought I would never fit in coming from a totally different cultural background."
"I never thought that I, as a Nepali boy, could ever be a frat guy," Basnet said.
He added that he was initially hesitant to join Greek life as he did not understand how the entire house integrated together and this lack of information contributed to his fear of being isolated in the house.
"In the initial stage of discovering my interest in Greek life, I felt as though my opinion wasn't really mine as it was entirely based on what people around me felt about certain houses," Wagle said.
Even if international students decide to go through recruitment early on, navigating information about Greek life can be challenging.
[…]
It seems that as international students build more social and cultural experiences and adapt into American culture, the seemingly obscure idea of Greek life becomes more and more familiar.
Mandal, a new member of Sigma Chi, said, "Seeing international students mingle with domestic students through Greek life and build meaningful connections helped me reconsider my initial thoughts about it. Gradually, I got to know more people and seeing the uplifting environment, including the academic support in the house, made me sure of going through the recruitment process."
However, Mandal also touched on Greek life being predominantly white, which added a layer of intimidation for most international students, overshadowing the enthusiasm of finding a sense of belonging.
"Despite their interest in joining Greek life, people of color tend to feel like they do not belong in that space because of the lack of diversity," Mandal said.
Therefore, representation becomes a crucial factor for people of color, especially international students, in order to be able to resonate with people and genuinely feel at home.
Regarding diversity, Basnet said, "Some fraternities and sororities value diversity more than the others and the less diverse spaces are not outright unwelcoming. However, the more diverse houses made this decision reassuring. The international upperclassmen in Greek life, especially my Nepali seniors, have certainly set a precedent for me and many others to come."
The lack of diversity certainly makes students hesitant to go through the recruitment process as studying in a completely new environment is already an intimidating experience. However, Wagle believes that being open to new experiences like Greek Life can be extremely beneficial in many aspects.
"Getting into the house comes with a lot of time commitments and responsibility toward your house and members. But it certainly steers one's personal growth and pushes them to step out of their comfort zone," Wagle said.
[…]