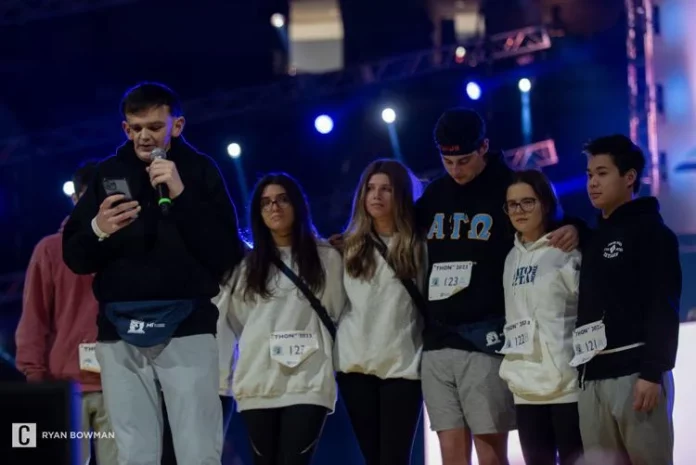 THON 2023's Greek Hour on Saturday morning recognized greek life members and their efforts toward their organizations, fundraising for THON and their individual THON families.
Four Greek Council Members shared what council they represent and why THON is special to their individual groups. On the big screen, clips played of each greek life organization introducing themselves and how their group contributes to THON.
Students cheered as Reilly McCarthy, Sigma Phi Epsilon's guest speaker and dancer, began to speak on the stage.
McCarthy (senior-supply chain management) said he was diagnosed with Hodgkin's lymphoma in 2020, and he continued to tell his cancer story about chemotherapy and getting involved with THON.
"In the days leading to chemo, I would receive an overwhelming amount of messages from our organization," McCarthy said. "I do not know what I would've done without all of this support."
McCarthy said he finally rang the bell signaling to the world that he was officially cancer free after a nine-month battle in summer 2021. This motivated him to get involved with THON and help others the way they helped him.
Alpha Phi Delta, Gamma Sigma and Sigma Alpha performed a 1920s-style decades dance after McCarthy shared his story.
Following, Tucker Haas spoke on his journey with cancer and how THON helped him.
Haas (senior-recreation, park and tourism management) said he was diagnosed with cancer in 2002 when he was 2 years old, and that moment changed his life "forever."
Celebrating his 20th THON, Haas said he is a THON chair for Alpha Tau Omega and dancer for both Alpha Tau Omega and Zeta. He said he was originally paired with these organizations back in 2004, is now 16 years cancer free and now a brother of Alpha Tau Omega.
"I never knew I would meet some of my very best friends in ATO and Zeta… The past three years have been the best years of my life," Haas said. "Thank you for allowing me to live out my dream. THON truly saved my life, and I wouldn't be here if it wasn't for people like you."
Related news: