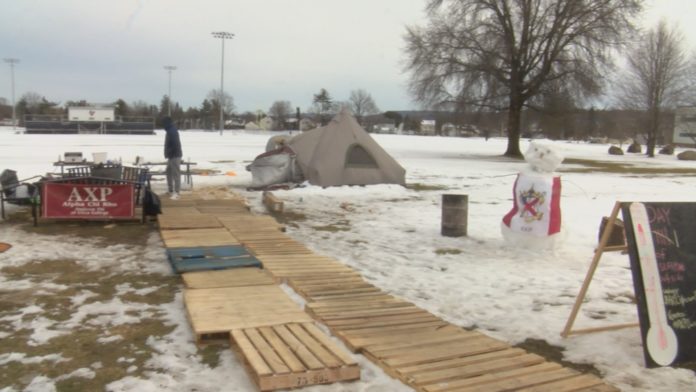 Utica, N.Y.– The quad of Utica University has been transformed into a campground for the week. You may think, isn't it too cold to be camping? Well, that's exactly why members of the Alpha Chi Rho Fraternity are braving the cold temperatures. And it's all for a good cause.
"This week, we are camping out, trying to raise money for cancer awareness. We're sleeping out in the cold, we call it freezin for a reason, we sleep out every night in the cold with hopes of people coming by and noticing that we're being cold out here in the abnormal conditions." Norman Booth, member of Alpha Chi Rho Fraternity explained.
Since Sunday, fraternity members have been braving the cold weather. But the cold temperatures are small in comparison to the cause they're standing up for.
"It's been cold out here but it really doesn't compare to people who have cancer, so we're just trying to stay out here for a bigger purpose, raise money" Fraternity member Luke Granato said.
This year's goal is $4,000. With one day to go before they pack up, the total sits at $3,250. But it's more than just raising money. It's about being together.
"It brings us together, we're all going through it together with all the brothers. It's really cool to see what comes out of us when we our worst is in our forefront. It's really cool being able to lean on each other because we depend on each other for this . Its really cool seeing what the brothers are willing to do for other people," Booth said.