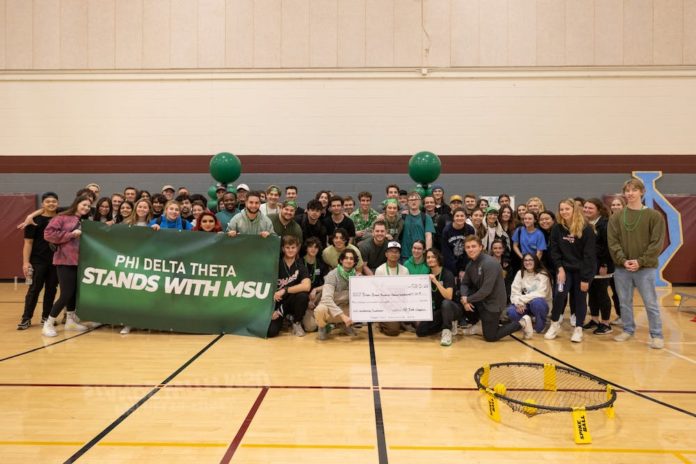 Arizona's Beta chapter of Phi Delta Theta Fraternity came together in honor their brother Brian Fraser with scholarship donations and an event
Members of the Arizona Beta chapter of Phi Delta Theta Fraternity hosted a celebration of life Wednesday evening for their brother Brian Fraser, who was killed in the Michigan State University shooting on Feb. 13.
Fraser was a 20-year-old sophomore business major and president of the Michigan Beta chapter of Phi Delta Theta.
What was originally going to be a fashion week event to raise money for their chapter was switched to a celebration honoring the life of the Michigan State student. The brothers of Phi Delta Theta mourned Fraser from Tempe, nearly 2,000 miles from Michigan State, with games, pizza and a fundraiser on behalf of the Brian Fraser Presidential Memorial Scholarship.
"While many of us in this room were sitting in our chapter meetings, students at MSU were dealing with the unimaginable," said Conor McGill, a senior studying sports journalism at ASU and a Phi Delta Theta member at the event. "We're coming together as a chapter because it could have been any of us."
Hogan Miller, president of the Phi Delta Theta chapter at ASU and a junior studying sports business, said he especially took the passing of his brother to heart.
"It struck a little hard that another president just like me is just not with us anymore," Miller said.
Miller said he had conversations with his brothers about what the protocol would be if there was a shooting at ASU.
"I had a conversation in chapter Monday on making sure they knew exactly what to do in an active shooter situation," Miller said. "Our chapter would feel so different the next day if we lost one of our brothers. I would be absolutely devastated."
In honor of their brother, chapter members decided to raise money for the scholarship in Fraser's memory.
At the event, Miller announced that the Arizona chapter of the fraternity raised a total of $4,108. He said the scholarship goes to support future Michigan Beta chapter presidents and fund their education. As of Thursday, the scholarship had gotten a total of $132,066 in donations, surpassing its $75,000 goal.
"It's a tough time what they're going through right now. So we want to help them as much as we can and try to move forward," Miller said. "And that starts with their education. Making sure they don't have to worry about that and they can focus solely on the memory of Brian."
Arizona Beta Advisory Board Chairman Steve Sloboda said he's proud of how the brothers of Phi Delta Theta have handled the loss.
"I'm incredibly proud of these guys for what they have done. There's no words to describe this. I'm really super impressed," Sloboda said.
He said while he didn't personally know Fraser, feels for his family and chapter.
"As a parent, I don't have words to describe what the Fraser family is feeling right now," Sloboda said. "As a parent, it's your worst nightmare. I hope that no parent ever has to go through something like this."