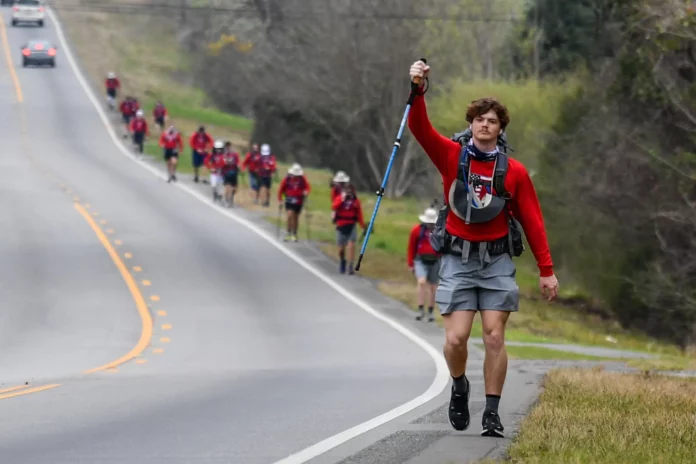 Troy University's Alpha Tau Omega fraternity is preparing to walk a little over 128 miles to Panama City, Florida, for Spring Break. They are walking as part of the fraternity's Walk Hard event, raises money for Jeep Sullivan's Wounded Warrior Outdoor Adventures.
Last year, ATO raised $125,000 and this year their goal is to exceed that number.
The money the fraternity raises allows for Jeep Sullivan's Outdoor Adventures to assist wounded veterans that are recovering and need help getting back to an active life.
Walk Hard has become an event that gets national attention, and fraternity members said they are proud of the recognition.
"It's great because now, it's not just a local thing," said Cole Pierce, a junior exercise science major from Montgomery, Alabama. "We're getting the word out all across the country, and people send donations from many different states."
Members of ATO traveled to Montgomery to be recognized by Alabama Governor Kay Ivey, which they said kicked off the preparations of their adventure.
"This realness is coming into play that we're about to start something that most people would love to do," said Chase Durden, a sophomore exercise science major from Tallahassee, Florida.
Walk Hard is an event that has more than one purpose. While the event does raise money for veterans, it  is also an opportunity  for the fraternity members to share memories and victories with one another.