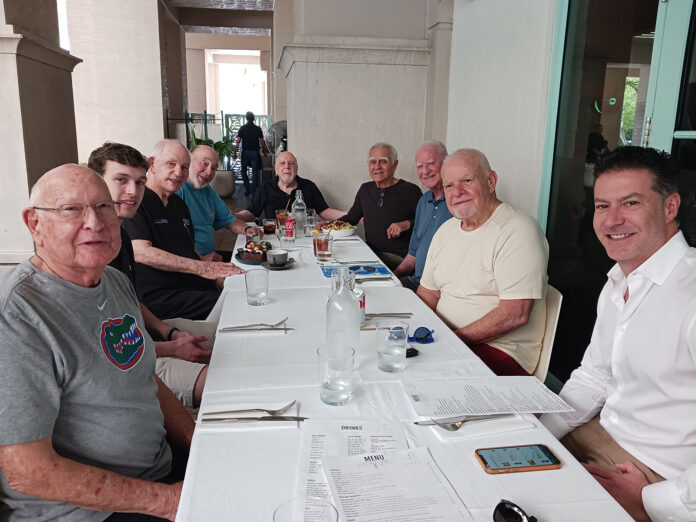 For more than ten years, Pilam alumni in South Florida have been hosting weekly lunches to stay connected "not four years, but a lifetime." Chuck Ruffner '58 (U of Florida) said, "it's a group effort to keep it going."
Every Wednesday at noon at Bashour's, a restaurant in Coral Gables, brothers from the University of Florida and Miami have an open invitation. Mostly from Florida Delta, alumni from the 50s, 60s and 70s come to gab about classmates, catch up, and talk a lot of Gator football.
Chuck said of the Florida alumni, "we stick together pretty well." The tight knit group has always been inclined to stay bonded, attending each other's family functions, keeping tabs on one another, and sharing if a brother was in need of a call or help.
They still look after each other. Chuck said, "if somebody gets sick, we're all there." They celebrate life — weddings, birthdays, bar mitzvahs — and sadly, death. More than 50 brothers recently attended a memorial service and reception for Art Sheldon, who passed away.
Chris Cataldi '95 (Temple), who now lives in Miami, attended a lunch. He said of the tradition, "It's a true bond. 50 years of brotherhood for most of these guys. They welcomed me in immediately and we exchanged fraternity stories over lunch. This is a weekly meet up for them, and one I plan to join whenever I can!"
The roots of the Florida lunch crew
Ruffner was in the same high school fraternity as David Pere, Fred Wasserman, and Howard Kent Schrader at Miami High that Chuck referred to as "a feeder" for Pilam Florida.
They all attended the University of Florida and as expected, joined Pilam. They remained lifelong friends ever since. Chuck said that even though they are from all over the state, "we talk almost every day on the phone."
Chuck wanted to expand the circle to others, so he came up with the idea of an open weekly luncheon. The tradition is still going strong, more than ten years later.
Every week, brothers get a table at noon and wait to greet the others who attend that week. They talk fraternity, life, and Gator football.
At 86, Chuck said, "I'm pretty sure I'm the oldest alumni who attends." Chuck is a tax lawyer who would like to retire, but joked, "some of my clients won't let me."
Most of his FL Delta brothers have also gone on to achieve great success. Their alumni include pediatricians, cardiologists, lawyers, CPAs, business owners, and insurance execs, among others.