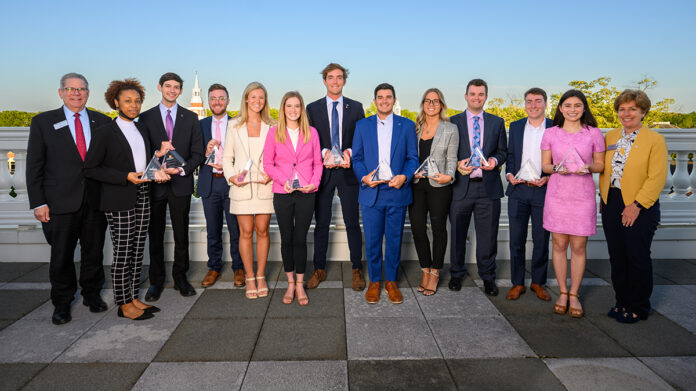 HIGH POINT, N.C., May 1, 2023 – High Point University honored outstanding student achievements in the classroom, on campus and in the community during the Honors Day Ceremony on April 19. Among these awards, several students were named Extraordinary Leaders and recognized for their excellence and service performed inside and outside the classroom.
Extraordinary Leaders are nominated by faculty, staff and fellow students for striving to make a difference in the larger community. These students lead by example, have a high regard for academic endeavors and are committed to improving our community at large.
HPU's 2022-2023 Extraordinary Leaders are:
Braeden Boyle, a junior business administration major, is heavily involved in Greek life on campus. He is president of the Interfraternity Council, a brother of Beta Theta Pi and a member of the Order of Omega Greek Honor Society. Boyle is also a resident assistant for Greek Village. He dedicates time to his service with the Student Government Association, where he serves as an associate chief justice. Boyle is also a student justice with the Office of Student Conduct.
John Pallaria is a senior business administration major. During his time at HPU, Pallaria served as the assistant resident director for Greek Village, supporting the students in the community through the challenges they face in their residential life. He is also a founding father of Delta Chi. Pallaria was named to the Dean's List for his outstanding academic achievement and has been recognized as a member of the Order of Omega Greek Honor Society.