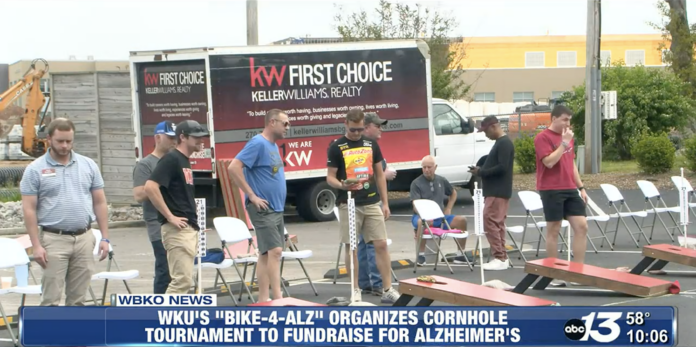 BOWLING GREEN, Ky. (WBKO) – Whether you call it "Cornhole" or "Bags," there were several people in the community who wanted to get in on all the action.
Members of FIJI, a fraternity chapter on Western Kentucky University's campus, have banded together to fundraise for their annual biking trip that raises awareness for Alzheimer's disease.
Bike4Alz is an organization that will be biking across America to raise money for Alzheimer's research. They will be cycling from California to Virginia this summer, to help fundraise for their organization.
They held a cornhole tournament as part of their fundraising.
The event allowed community members to show their support for the cause, with an added competitive spirit.
"It is just a great community. It is a time when we really get to just spend time with the community. People can come to be a part of something fun that is happening, but also if they want to engage in a little bit of competition, they have that opportunity," said Grant Johnson, the Head of Corporate Donor Relations for Bike4Alz. "It is an opportunity for people to get involved with an organization as great as Bike4Alz."
This is the second Cornhole tournament, with many more expected in the future. For more information on Bike4Alz, you can visit their website.