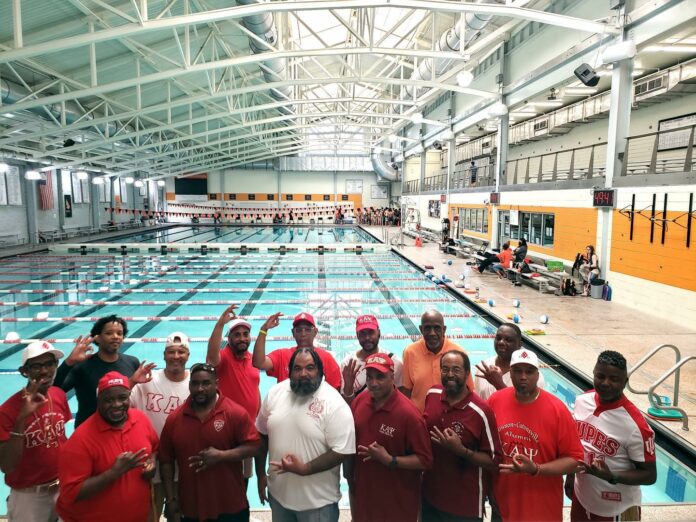 Baltimore County, MD: The Towson-Catonsville (MD) Alumni Chapter of Kappa Alpha Psi® Fraternity, Inc. (TCAC) and the Eagle Swim Team (EST) have once again partnered to promote a "Day of Diversity and Inclusion" on Saturday, May 20, 2023 from noon to 5:00 p.m. The event will take place at the Harry Rosenburg Center Pool on the campus of the McDonogh School located at 8600 McDonogh Road in Owings, Mills, MD.
The day-long program, serving a total of one hundred thirty children, ages four through sixteen, across two sessions, is not only a fresh approach to the typical swim clinic, but it is also part of an ambitious movement born of the desire to save as many lives as possible. Current college-level and experienced club-level swimmers are volunteering their time in an act of community service to work with kids from underserved communities to provide swimming lessons and tips on water safety, with an added emphasis on minority participation in the sport.
"We want to encourage and increase minority participation in the sport of swimming at all levels, make children aware of the physical benefits of swimming, teach water safety, and reduce their overall fear of going into a body of water", said Brian Pinkney, a 1976 initiate of the Pi Chapter of Kappa Alpha Psi® at Morehouse College in Atlanta, GA.
Headlining our speakers this year will be Director Nic Askew of the award-winning Howard University Swimming & Diving Team. He is in his eighth season as Director of Swimming and Diving for the nation's only NCAA Division I swimming and diving team at an HBCU (Historically Black Colleges and Universities) institution. He coaches both the men's and women's teams. Academically, both squads have been selected to the College Swimming and Diving Coaches Association of America (CSCAA) Scholar All America Team in consecutive semesters. The Howard University Swimming and Diving program provides a unique opportunity for young Black swimmers: not having to choose between attending an HBCU and swimming competitively in college.
Of historic note as well, the Howard Bison is the first HBCU collegiate swimming team to be featured on the cover of Sports Illustrated.
Director Askew's educational impact reaches beyond aquatics. "He doesn't just teach youth how to compete; he uses sport to teach athletes life skills, such as leadership, accountability, discipline, and patience", according to the Howard Bison, the university's news publication.
Askew was honored at the 33rd Annual National Black History Swim and selected as the 2020 "Maritza Correia McClendon" Award recipient from the Diversity in Aquatics organization. In addition, Askew was named the 2020 Coastal Collegiate Sports Association (CCSA) Conference Men's Coach of the Year.
Askew was also the recipient of the 2023 Drake Hero Award, which "recognizes an extraordinary individual who has helped advance the collegiate sports reform movement through persistent actions over time", according to The Drake Group, which stated, "The achievements of his teams have created public notoriety, thereby raising important questions about the failure of intercollegiate athletics to address the underrepresentation of Black athletes in NCAA men's and women's championship sports." "[He] has been at the forefront of coaching representation in NCAA sports in which African-American athletes and coaches are underrepresented", stated The Drake Group.
Coach Brian Pinkney and EST Coach Scott Ward will continue serving as the hosts of the event. CEO of the NotYetPro Swim School Tyree Powell, a 2000 initiate of the Lambda Zeta Chapter of Kappa Alpha Psi® at Towson University in Towson, MD, will serve as the lead instructor. EST Coach Trevor Rill will organize a day of activities for the swimmers, and will assign them to the appropriate group levels and instructors according to their swimming abilities. Rev. Dr. Herman Kelly, a 1974 initiate of the Pi Chapter of Kappa Alpha Psi® at Morehouse College, is a Louisiana state swimming champion for the Senior Games. Prof. Kelly will also be speaking at the event. Several other speakers will engage the parents with tips, resources, and recommendations going forward into the summer months.
New to this movement are our professional video and still photo staff, led by audio technician and Lorenzo Millan, CAS, and editor and Professor G.T. Keplinger. "We now have the ability to capture this movement and produce a documentary for everyone to see and benefit from", said Pinkney. He continued, "All of our technical staff and behind-the-scenes volunteers have shown the same unwavering commitment to our ideals and goals."
Additionally, TCAC's Social Action Committee will provide parents with a list of resources to connect their families with minority coaches, swim lessons, clubs, and teams in the Baltimore metropolitan area. These resources will be provided at the event and can be found on TCAC's Facebook page and the TCAC website.
"It's our hope that the combined efforts of our partnership will have an immediate impact on minority kids by increasing their accessibility to swimming, lessons, and teams across our area", said Pinkney.