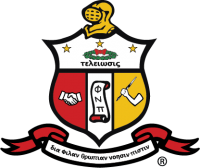 Members of the Hattiesburg Alumni and Kappa Iota chapters of Kappa Alpha Psi Fraternity at The University of Southern Mississippi (USM) attended the 87th Southwestern Province (SWP) Council in Little Rock, Arkansas April 13-15 and were recognized with individual and group honors.
USM student Jonathan Hardy, a fall 2021 initiate of Kappa Iota, was recognized for his achievement and outstanding service as Undergraduate Board Member of the SWP Board of Directors.
"As NPHC (National Pan-Hellenic Council) advisor, it has been a pleasure working with the Kappa Iota chapter," said Valencia Walls, associate director for USM's Office of Fraternity and Sorority Life. "Jonathan has made valuable contributions to our NPHC community including serving on the NPHC executive board. We are proud of all he has accomplished as he consistently represents the fraternity's tenet of achievement.
Hardy was also granted SWP Life Membership by the 27th Southwestern Province Polemarch, William A. Puder, and was also awarded the Southwestern Education and Leadership Training Scholarship.
"The fundamental purpose of Kappa Alpha Psi is achievement, and we are committed to striving for honorable achievement in every field of human endeavor," said USM Kappa Iota chapter alum Bernard Greene, a member of the USM Alumni Association Hall of Fame who serves on the University's Fraternity and Sorority Life Alumni Committee. "We are very proud of Jonathan and the entire Kappa Iota family."
Under Green's leadership as Alumni Polemarch, the Hattiesburg Alumni Chapter was named the Southwestern Province Alumni Chapter of the Year during SWP Council event. A spring 1993 initiate of the Kappa Iota Chapter at USM, Green said many members of the fraternity transition to the alumni chapter after graduation to remain actively engaged with Kappa Alpha Psi.
"The members of the Kappa Iota chapter of Kappa Alpha Psi Fraternity, Inc. continue to thrive in the local community and on the national stage. We're so proud of all their work and involvement in the community," said Laura Laughlin, director of Student Connections at USM. "The engagement and active participation from their local alumni make a significant impact in the continued success of the undergraduate members. We always recognize the difference it makes when our alumni continue to give back and improve the experience for undergraduate members."