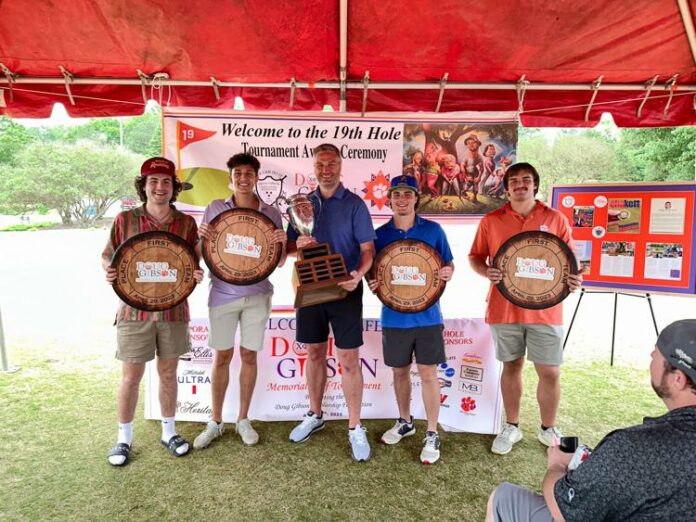 On April 29, Chi Phi undergraduates and alumni welcomed golfers from across the country and attended the second annual Doug Gibson Memorial Golf Tournament.
The event kicked off with the scholarship luncheon at the Madren Center, where late Chi Phi alumnus, Doug Gibson, was honored, and two $4,000 scholarships were presented in his name to deserving Clemson University undergraduates — Jason Timberlake of Chi Phi Fraternity and Gino Vitelli of Phi Mu Alpha Fraternity.
Following the luncheon, 84 golfers representing 16 different states teed off at the famed university course. Tournament highlights included a longest-drive contest sponsored by Michelob Ultra, a closest-to-the-pin contest made possible by executive-level donors and a hole-in-one challenge where participants competed to win a 2023 Genesis GV80 sponsored by the Jim Ellis Automotive Group.
While none of the 84 tournament participants were able to drive away in a new car, the foursome of Clemson students Pierce Joglekar, Anthony Gregware, Gavin Dolan and Sean Fenton walked away with the tournament championship and joined last year's winners of having their names engraved on the prestigious Heritage Cup. At the day's end, over $55,000 had been raised for the event thanks to donations from generous sponsors and alumni, as well as silent auction and raffle proceeds. Since the establishment of the Doug Gibson Scholarship Foundation in 2022, over $97,000 has been raised to benefit Clemson University students.
"This tournament in honor of your brother, Doug, is something of which you all should be proud — not only because of the way in which you are remembering Doug, but because you are creating a legacy that will positively impact students for years to come," Clemson University President Jim Clements said days after the tournament.
The Delta Theta chapter of Chi Phi and Clemson Chi Phi Alumni Association extend their utmost gratitude to Mr. and Mrs. Gibson, the members of the scholarship foundation and tournament committee, as well as the many volunteers who made this memorable outing possible. The Brothers of Chi Phi look forward to continuing building upon Doug Gibson's legacy as a son, friend and brother of the Chi Phi Fraternity and Clemson Tiger at next year's tournament and for many years to come.
Chi Phi is still hoping to raise an additional $5,000 to reach this year's goal of $60,000. Donations can be made to the Doug Gibson Scholarship Foundation by visiting www.douggibsonmemorial.com.