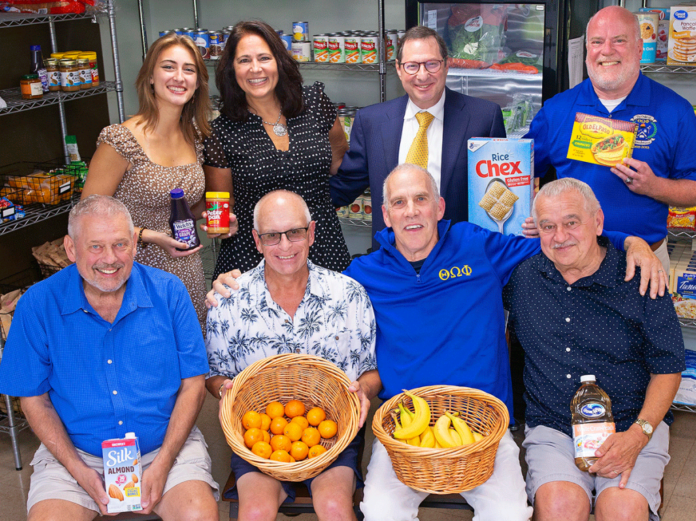 POTSDAM – Years after they graduated, the fraternity brothers of the Sigma chapter of the Order of Prometheus are still giving back to make a difference at their alma mater. Now, SUNY Potsdam is honoring that gift by naming the Prometheus Alumni Food Pantry in their honor.
The College celebrated the dedication of the Prometheus Alumni Food Pantry during Reunion 2023, along with brothers and supporters of the Greek Life organization.
"We are deeply grateful to the brothers of the Order of Prometheus for their unwavering generosity and commitment to our campus community. The Prometheus Alumni Food Pantry stands as a testament to their selfless service and dedication to supporting students in need. We are honored to recognize the lasting impact of their contributions," said SUNY Potsdam President Dr. Suzanne Smith.
Since its founding in 1968, the Sigma chapter of the Order of Prometheus fraternity at SUNY Potsdam has been dedicated to serving its community, regularly donating time and money to local charities and service projects. For the past several years, the brothers have dedicated those efforts toward supporting the Campus Food Pantry, raising funds and collecting donations of non-perishable goods and toiletries during Reunion celebrations and throughout the year.
Prometheus alumni have made gifts and pledges in excess of $50,000 to provide ongoing support for the pantry. Those gifts have been a lifeline for the pantry, which serves SUNY Potsdam students facing food insecurity during the pursuit of their degree, and is a necessary resource to ensure continued student success for all. The pantry is located in the Barrington Student Union, and is open for all to leave donations or take what they need, no questions asked.