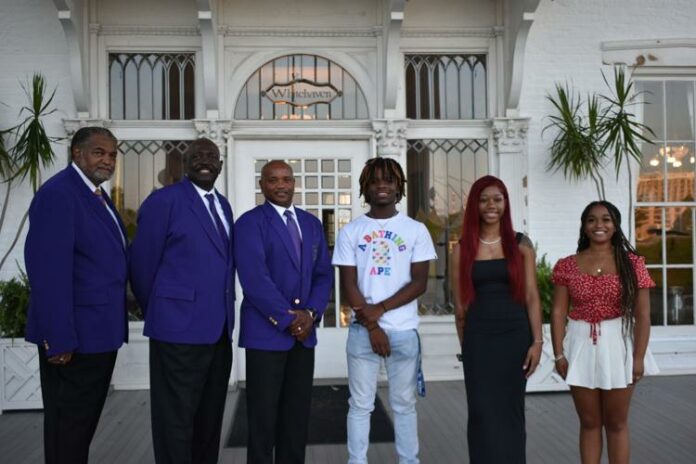 PADUCAH — On Tuesday, the Upsilon Iota graduate chapter of Omega Psi Phi Fraternity Inc. presented checks to three college scholarship recipients at the historic White Haven building. The fraternity provides 3 scholarships yearly to deserving students who showcase academic dedication and achievement. This year, the fraternity has awarded $2,000 in scholarships and is expected to award more.
According to the scholarship chair, Tony Copeland, the scholarships are named after three Paducah Omega Psi Phi members, Rev. Lawrence Milliken, William Nelson, and Clarence Gain. Copeland said these members made valuable contributions to Paducah and West Kentucky.
He said scholarships like these allow students to go off to college with little to no balance.
"Scholarships like these are so important," Copeland said. "It gives these young individuals a chance to pursue an education in hopes one day they will return to Paducah and significantly impact this community.
Madyson Wilson, a 2023 Paducah Tilghman High Honor Graduate, won the $500 Rev. Milliken Scholarship Grant. She was a Varsity Cheerleader, a KHSAA Honorable Mention Student Athlete, a Beta Club and Black Coal and Roses Society member. This Fall, she will attend West Kentucky Community and Technical College and major in business while obtaining her certification in cosmetology.
Sophomore Gabrielle Copeland, who attends the University of Kentucky, recently earned the $1,000 Dr. William Stuart Nelson Scholarship. Copeland is the very first recipient of this newly added scholarship. She plans to major in arts administration and theater. Copeland is a member of several organizations, including the Black Student Union, Underground Perspective, Black Voices Gospel Choir, Minority Youth Ministry, and the Theater Department. Additionally, she has completed an internship at the Carson Center. She said she is beyond grateful for this opportunity.
"The scholarship covered the majority of the rest of my tuition, Gabriella said." "I'm just excited that I don't have to stress about it anymore, and that's a great feeling going into the new semester."
Paducah Tilghman High's 2023 graduate, Anias Nunn, was awarded the Bighouse Gaines Scholarship, which amounts to $1,000. He will be attending the University of Kentucky this Fall and plans to major in finance. After playing for four years as a shortstop, he aspires to become a successful entrepreneur.
Omega Psi Phi Fraternity Inc. is a historically African American fraternity founded at Howard University on November 17, 1911. The fraternity is recognized nationally for its commitment to advancing high school and college students through scholarships, community service, and inclusion.
The Upsilon Iota chapter collects and raises money year-round for scholarships and other community-organized events. The fraternity also offers nationwide scholarships.
Copeland said he pledged last year to double the scholarship money raised. He said they met that goal and now promise to triple that amount in the following scholarship collection.
The fraternity said that scholarship applications are still available and encouraged all those interested to apply. Copeland said you can visit local churches, libraries, and school counseling offices to obtain an application or go to the chapter's webpage at Omega5d.us.