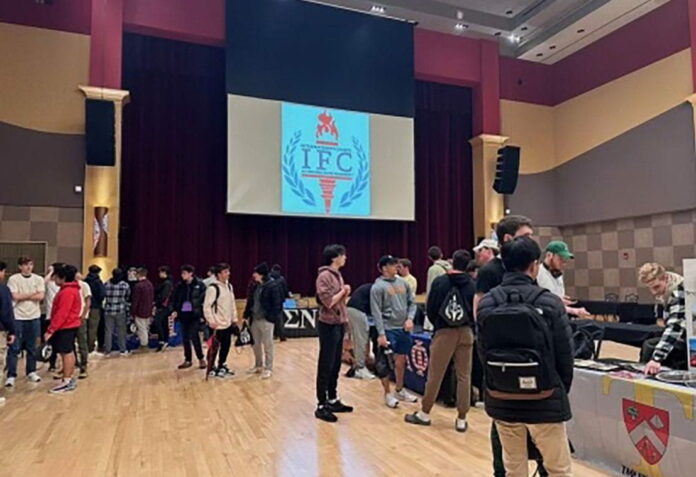 Ohio State's Interfraternity Council, the group in charge of governing university-affiliated social fraternities, is set to host fall rush throughout the first week of classes.
Though the rush process occurring in the fall is a scaled-down version of its spring counterpart, council executive members are eager for potential new members to explore Greek life in the upcoming weeks.
Jason Ghimbasan, president of the council and fourth-year in political science, said typically only sophomores rush in the fall, but anyone with 12 credit hours is permitted and must first attend orientation via Zoom on Wednesday, Aug. 23 at 6:30 p.m. 
"Orientation is required for (potential new members) to attend so they can get a hang of everything and understand their rights, what's expected of them and what's expected of the chapters," Ghimbasan said.
Students must sign up for rush prior to orientation on Sorority and Fraternity Life's website as well as fill out a grade release with a minimum GPA of 2.5, Ghimbasan said. 
Following orientation, a tabling event and office hours will be held at the Ohio Union on Thursday and Friday, respectively. Here, potential new members will have the chance to receive specific information on each chapter and can ask more in-depth questions to executive members, Ghimbasan said.
"Our tabling fair was a very big success in the spring, so I know we're putting a lot of effort into that to make sure that as many chapters as possible are at that fair and do get an opportunity to present some information to potential new members," Ghimbasan said. 
Oscar Barchick, the council's vice president of recruitment and a third-year in accounting, said they are expecting that around 300 students will rush, and wnywhere from 170 to 201 will accept bids.
Bids are given out during each chapter's rush week events, which can begin as early as Friday, August 25 at 5 p.m., after the council's initial events are complete, Barchick said.
"A lot of fraternities are going to do meet the brothers and house tours as two of their main events," Barchick said. "More or less, those just consist of coming into the house and just, you know, meeting as many people as you can, getting to see the chapter house and just learning about what their values are and stuff like that."
Ghimbasan said the potential new members decide which specific chapters and events they attend, but usually, the first few days are open to everyone, and the last few may become invite only.
"Give as many chapters as possible a chance, because you know who you're going to meet in each, so for all you know, the one you could have never thought you were going to be a part of is the one that you fit best in," Ghimbasan said.