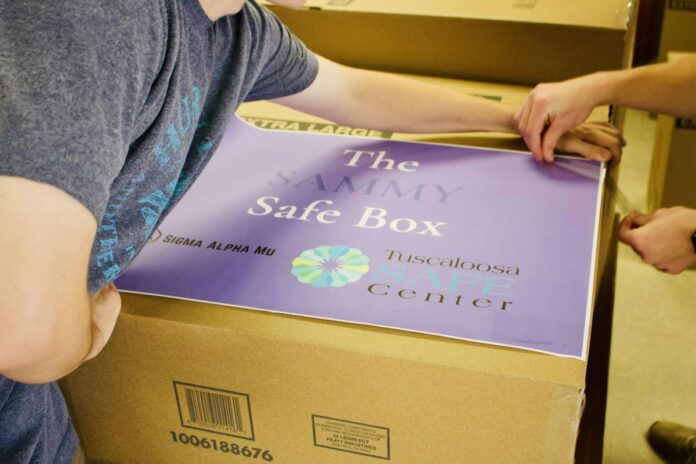 Sigma Alpha Mu's Sammy SAFE Box drive for the Tuscaloosa SAFE Center has returned for its third year.
With a fundraising goal of $30,000, the fraternity hopes to make an even greater impact than in previous years.
"The core of Sammy SAFE Box is to fundraise money and also item donations for the Tuscaloosa SAFE Center, which is a 24/7 sexual assault center for survivors," Pedro Reyes, a senior majoring in political science and a vice president and philanthropy chair for Sigma Alpha Mu, said.
Ivan Pelley, a sophomore majoring in political science and the Sigma Alpha Mu philanthropy and community service chair, said that they are trying to move beyond just Greek involvement and get a wider community involved. According to the chapter's Instagram page, Sigma Alpha Mu is partnering with over 50 Greek and student organizations for the drive this month.
When Reyes got appointed as philanthropy chair, he wanted to put his fraternity's name on the map. However, he didn't know how to do this until a member of the fraternity suggested the idea of doing a box drive, and the Sammy SAFE Box drive was born during the fall 2021 semester.
For this year's drive, Reyes said there will be various percentage nights held over the course of the month, including a bingo night at Rock N' Roll Sushi on Oct. 18 from 6-9 p.m. and Boba Mania on Oct. 19.
Items such as men's and women's clothing, office supplies and snacks may be dropped off at any of over 50 donation boxes around campus, including one in the Student Center.
Financial donations can be made via PayPal to @tuscaloosasafecenter@gmail.com or Venmo to @TSC-1601 with "Sammy SAFE Box" in the payment description.
"I participated as a member of the organization last fall as well," Henry Hanson, a junior majoring in chemical engineering and math and a Sigma Alpha Mu vice president, said. "But this semester, having a little more of a hands-on role has really shown me the work that goes into it, as well as how appreciated it is from the Tuscaloosa SAFE Center."