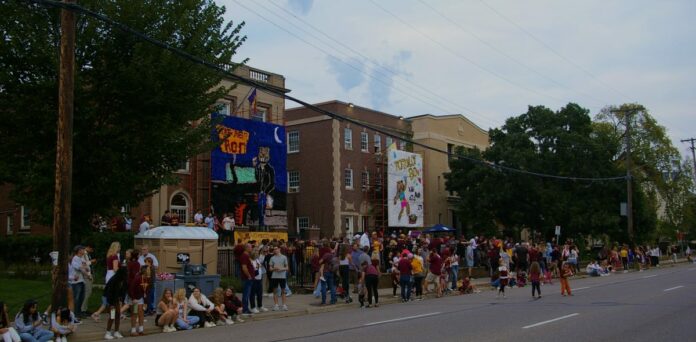 The new policy would require fraternities to post a list of health and safety resources at the entryway for social events.
The University of Minnesota Undergraduate Student Government's Sexual Assault Task Force (SATF) and the Interfraternity Council (IFC) are collaborating to add a new policy to IFC's risk management guidelines, releasing a joint letter Monday to describe the changes.
The new policy will require posters with health and safety resources to be posted at the entryway of all social events held at a particular chapter where the ratio of members to attendees is greater than 1:1.
"We appreciated the opportunity to meet and discuss the posting of specific University resources like Aurora's Crisis Hotline, the University's 624-WALK Service and the Gopher Chauffeur Transportation Service at IFC events so that any members or guests had easy access to support services as needed," SATF and IFC said in the joint letter.
In the coming weeks, SATF and IFC will collaborate to create the specific poster/resource posting that will be posted at each IFC member group chapter facility. We hope this is a helpful resource to anyone who would need it."
Mariam Hassan, SATF chair, said the task force is always looking to make campus a safer environment in regards to sexual assault. In the joint statement, SATF specifically aimed to make going out culture safer at the University.
"A big thing about fraternities is that a lot of their events, it's not just people in the fraternity," Hassan said. "It's a lot of outside people, whether they're in Greek life, whether they're not in Greek life and they're all probably students."
Hassan said she worked on the idea, first introduced by SATF member Colby Pitzenberger, with the help of fellow SATF member Jenna Monday, IFC President David Nunn and Emily Oswalt, director of the University's Office of Fraternity and Sorority Life.
Nunn said the proposed policy aims to ensure all individuals attending fraternity social events feel more safe.
"I think it could benefit the community in many ways, but I think it would primarily just give people more resources," Nunn said. "It would also show that we [IFC] are here to help and to be a resource just as much as any of the other listed resources are."
The Aurora Center, a department of the University's Office for Student Affairs, provides free and confidential crisis intervention to victims of sexual assault, relationship violence, stalking and harrassment.
"The Aurora Center can provide posters and additional information about available services, including the 24-hour helpline, to student groups seeking to have resources posted at their event(s)," according to an email statement sent by the Aurora Center to the Minnesota Daily.
Sean Hampton, the risk management chair for Sigma Pi Fraternity at the University expressed the significance of this proposed policy in ensuring safety.
"I think they're useful resources," Hampton said. "Oftentimes most people at these social events are heavily intoxicated and cannot find their friends or their phone, so having those resources listed is important."
Hassan said having these resources posted in public spaces will make it easier for students to seek help if need be.
"It's easy to forget what resources are available to you," Hassan said. "I think having it literally hanging in front of fraternity buildings is really good for people who are in that panicked mindset or they just don't know what to do. It's right there and either they can see it or a friend can see it or someone in the vicinity can find it, and they don't have to think about it."
Nunn said the IFC has not been able to ratify the policy into their bylaws yet, but he will be walking to each chapter facility to give them a poster once he receives them from the SATF.
"The next time the legislation is together, it'll be proposed, and then I'm sure it will pass through," Nunn said.
Nunn added the violation of this potential new policy would be treated the same way as any other violation to IFC's risk management guidelines.
"If we got a report that a chapter did not have it posted, we would do our due diligence to make sure that report was true or false," Nunn said. "From there, we would proceed with our normal board hearing just as any other violation would be."
Nunn said he is grateful for the opportunity to establish a positive working relationship with the SATF and is excited for the opportunity to work with USG.
"I have asked SATF as to what they would like me to do to ensure the posters are up and that every chapter is upholding that," Nunn said. "I think that we have established a level of trust that if we tell them they are up, they will respect and understand that is true."