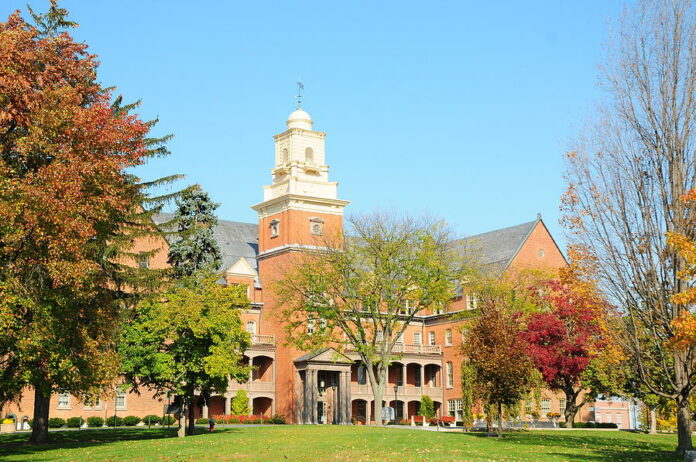 Shippensburg University alumni reunited with each other behind Seth Grove Stadium for the annual homecoming tailgate before the football game on Nov. 4. The SU alumni joined with current SU students at their cars and organization tents to celebrate this year's homecoming.
The tailgate was preceded by the annual homecoming parade which featured floats that reflected the homecoming theme — "Through The Decades." The parade featured familiar faces such as Shippo the Hippo and three iterations of Big Red. The Slate took the time to speak with some of the Shippensburg University alumni at the tailgate and hear the stories that they had to tell.
Darrell Miller & Frank Klink – 1975 & 1977 Graduates
Both during their time as students at Shippensburg University and after, Darrell Miller and Frank Klink have been heavily involved with the university. Miller and Klink both received a bachelor's degree in accounting from SU, while Miller received his MBA in 1990. The two are now involved with volunteering — Miller with his church.
Klink is a Phi Sigma Epsilon brother; this fraternity merged with Phi Sigma Kappa in 1985. Miller was a football player during his time at SU. "It was a wonderful experience for me," he said.
For 10 years, Klink worked for Shippensburg University Student Services Inc. (SUSSI) as the senior accountant. Miller was also the president of SUSSI for a time, and after he left, the title was changed to executive director.
Khaleel McFadden – 2015 Graduate
Former SU football player Khaleel McFadden has returned for homecoming weekend every year since his graduation in 2015.
McFadden expressed the community building that happened at Shippensburg and on Richard Street post-games. "Richard Street had the best stories — after football games, Richard Street was amazing," he explained. "It's naturally what you want to see as a college student because it had that ambiance and the experiences of classic college."
McFadden is an Omega Psi Phi brother; he explained that this was the first African American fraternity on campus.
Brittany & Shane Lukenda 2013 Graduates
Brittany Lukenda, a Kappa Beta Gamma sister, and Shane Lukenda, a Theta [Xi] brother, met during their time at Shippensburg University through their involvement in Greek Life. 
"Greek week was always really fun because that was what we were involved in," Brittany Lukenda said. She explained that when they were students, they would watch the football games every weekend from the balconies of the College Park apartments.