Each year, the College of Charleston Alumni Awards Gala recognizes alumni whose accomplishments in their chosen fields have brought honor to the College.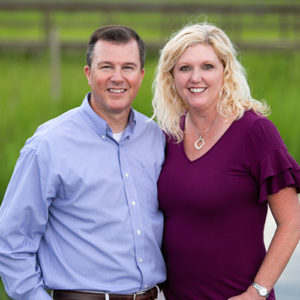 It would be difficult to find a more involved College of Charleston couple than Michelle and Johnnie Baxley. Whether it is through financial support of programs and scholarships, passionate support for student organizations and student-athletes, or leadership and advocacy regarding the power of philanthropy, they are engaged in all aspects of the College. They have made the College their philanthropic priority and give generously of their time, talent, and treasure.
Johnnie Baxley graduated from the College in 1992 with a degree in political science and was actively involved as a student through Pi Kappa Phi Fraternity and Student Alumni Associates. He was also the recipient of an Alumni Association scholarship. He is a lawyer and founding partner of the law firm, Willson, Jones, Carter & Baxley; and Michelle Baxley is a travel agent with Travel Leaders of Charleston. They have two daughters, Madison and Peyton, who have inherited their parents' love of the College.
With their leadership and financial support, the student philanthropy group, Committed to Charleston, was founded to encourage students to make the College a philanthropic priority. They are fixtures at College events and can be seen at almost every volleyball match and basketball game. Johnnie Baxley has served on the Alumni Association Board of Directors and on the Cougar Club Board, and Michelle Baxley has served on many Cougar Club committees.
In 2018, their oldest daughter entered the College of Charleston as a freshman, and naturally, Michelle and Johnnie Baxley agreed to serve on the Parent Advisory Council. They are firm believers in giving back and paying it forward.