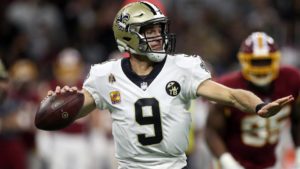 NEW ORLEANS — Drew Brees, a member of Sigma Chi Fraternity at Purdue University, became the NFL's all-time passing leader on Monday night, and he did it in spectacular fashion.
Brees broke Peyton Manning's record of 71,940 career passing yards with a 62-yard touchdown pass to rookie receiver Tre'Quan Smith in the second quarter of a 43-19 rout over the Washington Redskins.
Better yet, the New Orleans Saints' 39-year-old quarterback had one of the best performances of his 18-year career, completing 26 of 29 passes for 363 yards and three touchdowns. His completion percentage of 89.7 was a career best. And he did it in front of both the home crowd in the Mercedes-Benz Superdome and a Monday Night Football audience.
"It played out even greater than I ever could've imagined," said Brees.
"It played out even greater than I ever could've imagined," said Brees, who added he had tried to rehearse the moment in his mind during the week — but still got caught up in the emotion when the NFL stopped the game as planned to recognize his achievement. Brees hugged teammates on the field and pointed and blew kisses to the fans. Then he handed the ball to Pro Football Hall of Fame president David Baker on the sideline and shared hugs and kisses with his wife, Brittany, his four children and coach Sean Payton, among others.
"There's so many people that are responsible and had a hand in that," Brees told ESPN's Lisa Salters after the game when asked what the record means to him. "The two people that are most responsible for my football career, early on, my mom and my grandpa, are up in heaven.