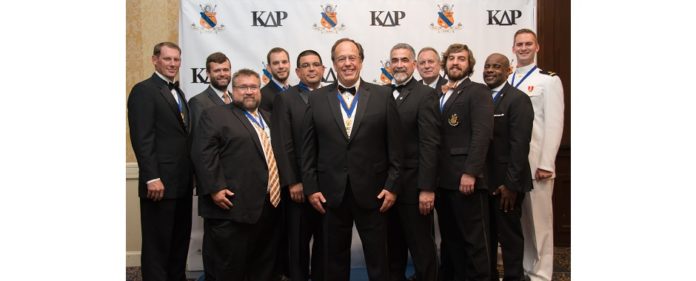 The National Fraternity of Kappa Delta Rho is pleased to announce the launch of Kappa Delta Rho Lifeline, an online mental health resource center adapted from The Jed Foundation's ULifeline website, which demonstrates the fraternity's commitment to greater mental health awareness, accurate education, and appropriate treatment resources.
The launch of Lifeline comes on the heels of Kappa Delta Rho's announcement last week of their new initiative—Brothers' Keeper—a program of ongoing support for their Brotherhood that includes educational, leadership, character development programs and mental health resources to support their undergraduate membership.
Lifeline is part of a collaboration with The Jed Foundation (JED) — a leading non-profit organization that exists to protect the emotional health and prevent suicide for our nation's teens and young adults, led by Brother John MacPhee, Nu Alpha '89.
"Many college students will experience periods of emotional distress and mental health challenges, and among college students, it is less common for men to seek help when they are struggling," said John MacPhee, CEO of JED. "We are pleased to see a national fraternal organization like Kappa Delta Rho supporting their members' wellbeing and empowering them to know when and how help themselves and each other with resources like Kappa Delta Rho Lifeline."
Kappa Delta Rho National President, Eugene L. Spencer, Iota '76 stated, "As our Brothers' Keeper, we should be aware of possible warning signs and subtle calls for help. We do not have to be mental health professionals to recognize someone else's difficulties or our own and seek assistance. We cannot stand idly by and expect that Brothers struggling with mental health issues such as depression, anxiety, or substance abuse will ask for help or resolve these issues on their own. A Brotherhood means that we support each other, and we put a hand out to those Brothers who need it; we do not wait to be asked or invited. Sometimes, the request for help doesn't come and the impact of the death of a Brother on everyone whose life he touched is profound, and forever."
All Brothers—both undergraduate and alumni—are encouraged to review the Lifeline site http://kappadeltarho.ulifeline.org. By knowing what tools and resources are available, one can act quickly and confidently when they recognize an Brother in need. Lifeline is a resource that will truly help all Brothers be their Brothers' Keeper.