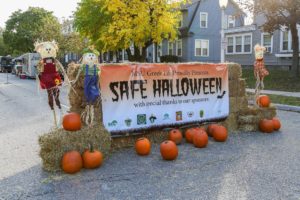 Looking for a Halloween, family-friendly event?
You can look no further than the Greek community at MSU.
They have planned a Safe Halloween street carnival for the whole family.
It will take place on Tuesday, Oct. 30, from 5-7 p.m. on M.A.C. Avenue between Burcham Dr. and Linden Street.
The fun will include many activities, including face painting, games, trick-or-treating at the various Greek houses, costume contests, live music, inflatable moonwalks, a reading circle, arts and crafts and more. A DJ will also be on hand playing some fun Halloween tunes, and local businesses will be handing out their own trick-or-treat goodies.
The event is free and open to the public.
Safe Halloween is an annual philanthropic event that has been hosted by Michigan State University fraternity and sorority chapters for over 20 years. This fun-filled evening provides children and families a safe trick-or-treating alternative in one of MSU's Greek neighborhoods.
"We are so excited to host our annual Safe Halloween event in conjunction with the city of East Lansing's Great Pumpkin Walk," said Alex Scott, director of Safe Halloween. "The MSU Greek community looks forward to Safe Halloween each year. It gives us the opportunity to positively impact our community by sponsoring an evening of fun for all ages."
Funds to benefit this charity are raised through Safe Halloween event sponsorship, fundraisers at local restaurants and Safe Halloween t-shirt sales to fraternity and sorority members.
Proceeds from the 2018 Safe Halloween fundraising will benefit Special Days Camps, an organization that provides a memorable camp experience for children with cancer and their siblings.