When you grow up in a farming family, you're no stranger to uncertainty.
You're used to the fickleness of the weather, the volatility of the markets, the temperamental animal, the combine that only breaks down when there's rain in the forecast, and the dryer fan that seems to shut itself off whenever it darn well pleases. It seems the only certainty in farming is uncertainty.
College is also unpredictable – especially when you're a student from a rural community. The transition can be intimidating – it's not uncommon for a single lecture hall to contain more students than your entire high school.
More than anyone else, it seems members of Alpha Gamma Rho understand where the uncertainties of agriculture and college life intersect. But it's in the most profound moments of the unknown that the certitude of AGR brotherhood proves itself.
Six generations, one farm
Winnebago County, situated in the northernmost part of Illinois, is a microcosm of the Prairie State. It's a balance of urban and rural – home to Rockford, one of the state's three largest cities, it's also home to long expanses of farmland. Bordering Wisconsin, Winnebago County knows dairy cattle, and amongst its numerous dairy farms is the Mitchell Farm.
Located just outside the town of Winnebago, the Mitchell family has farmed their land for six generations. Today, the Mitchell farming operation includes 400 dairy cattle, as well as corn and soybeans. If a case could be made for the quintessential Midwestern dairy farm, the Mitchells could certainly make it – But in July of 2008, the future of their family farm became anything but certain.
Facing an uncertain future
Sixteen-year-old Aaron Mitchell had plenty of people to look up to in his life. His dad, Mike, was a well-respected dairy farmer and vice president of the Illinois Milk Producers Association. Mom, Janice, had served as the school district's band director for more than 15 years. Oldest brother, John, had recently returned home to the family farm after graduating with a degree in Animal Science from the University of Illinois. And middle brother, Kyle, was preparing for his junior year at Illinois, studying Agricultural Engineering.
Aaron, who'd be starting his junior year of high school in the fall, was attending summer camp when he received news that would change his life.
"I noticed a couple of the camp counselors talking, and I could tell by the looks on their faces that something wasn't quite right," said Aaron.
Soon, those counselors brought Aaron to the camp's office, where his aunt had arrived with devastating news: Aaron's father and middle brother had passed away in a farming accident.
Earlier that day, Aaron's father was trying to fix a pump on an empty slurry tank. He climbed inside the tank to check something and was overcome by methane gas that had built up, which caused him to pass out.
Middle brother, Kyle, was working nearby. He noticed he hadn't seen his father in a while, so he went looking for him. As he looked around the slurry tank, he eventually spotted his dad, unconscious inside. Kyle immediately scrambled down the ladder to render assistance, while shouting to oldest brother John to call 9-1-1. John anxiously waited for the rescue crew to arrive, but by the time they got there and put on all their protective gear, it was too late. Mike Mitchell and his son had both been overcome by the fumes.
"You can't see the gas, you can't smell it, and unfortunately people see someone who's unconscious, they think they've just hit their head or had a heart attack… ," said Aaron.
"As farmers, our instinct is to jump in and help, and sometimes in situations like this, that has unintended consequences."
Unfortunately, this tragic situation is not uncommon and death by farming accident affects many farm families across the nation. According to the U.S. Bureau of Labor Statistics, farming consistently ranks among the top 10 most dangerous occupations – ahead of electricians, construction workers, and even law enforcement officers.
"I see a story almost every year where a very similar thing happens to someone else," said Aaron.
"Luckily, John had the wherewithal to stay out of the tank and wait for the rescue squad, or it probably would've gotten him, too," Aaron continued. "If it had, it probably would've been the end of the farm… I was 16 at the time and there's no way I could have taken on the family business at that point in my life."
A community – and a fraternity – gather
The community's respect for the family became evident in the following days. A memorial service – held at the high school gymnasium to accommodate the crowd – brought together nearly 600 friends and neighbors to pay their respects.
Among the crowd were a number of Alpha Gamma Rho brothers from Alpha Chapter at the University of Illinois, where oldest son John had lived while attending college.
"I could always tell that John's Agger brothers were his really close friends," said Aaron. "I didn't realize how close, until they showed up that day to honor my dad and brother."
Despite being located in the northernmost part of the state, just miles away from the Wisconsin border, numerous AGR brothers drove several hours and stood in line for over an hour, just to give a moment of comfort to their brother in need.
"Seeing those guys drop everything to be there for us meant the world," said Aaron. "I pretty much made up my mind right then and there about where I wanted to be when I went to college."
A wise decision
Eventually, Aaron was accepted to the University of Illinois, rushed Alpha Gamma Rho, and received a membership bid. Despite moving from a community of 3,000 to a campus of 45,000, Aaron knew he already had a familiar support system in place.
"Coming from a small town and moving to such a huge place… it's intimidating," said Aaron. "But I'd already seen the power of Alpha Gamma Rho brotherhood, so I knew there was a group of guys who share a bond in agriculture and value what I value."
That bond came into play during the tough times, like the university's annual Dads Weekend.
"You have moments sometimes where your emotions break down," said Aaron. "Knowing that there's somebody – anybody –down the hall who'll take the time to just sit and talk you through those tough moments – it means everything."
"I just wouldn't have gotten that kind of support if I'd lived in the dorms," Aaron adds. "Joining Alpha Gamma Rho is one of the wisest decisions I've ever made."
Back to the farm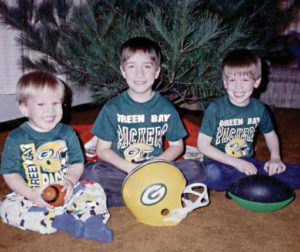 Aaron completed his degree in 2014 and joined oldest brother John back at the Mitchell farm. Together, they manage the dairy herd, while a cousin heads up the grain operation.
The Mitchell Farm is run well and in good hands, but there's no substitute for the guiding voice of a father.
"There are times when you find yourself wishing you could just ask your dad something…" said Aaron, "That experience is priceless."
Even without the guidance of their father, Aaron and John are building on the strong foundation Mike Mitchell left for them.
"To see John dive in and take over the farm so soon after graduating college always impressed me and made me want to step up, too," said Aaron. "It's been ten years since we lost our dad, but we're still learning on the fly."
And just as importantly, Aaron and John know their other brothers – their Alpha Gamma Rho brothers – are there for them, just like they were at the hardest time in the Mitchell family's life.
"If you farm, you accept a life of uncertainty," said Aaron. "But I know I can be certain that my Agger brothers will be there for me if I ever need it."