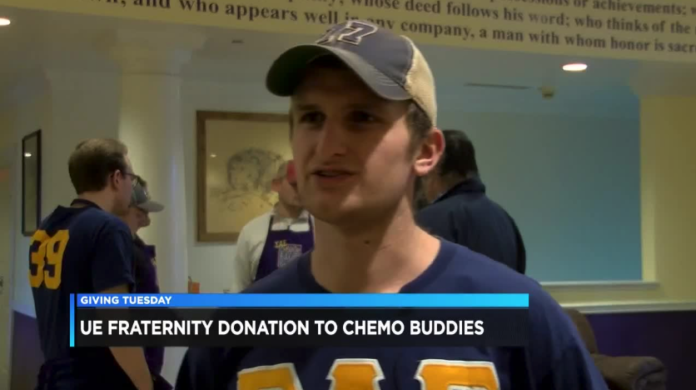 EVANSVILLE, IN (WFIE) – University of Evansville's Sigma Alpha Epsilon fraternity is going to try to harness the power of Facebook's #GivingTuesday to double is donation to Chemo Buddies.
The fraternity was able to raise $2,500 for the non-profit from its Fall Festival Booth.
They were going to make the donation tonight, but instead will try to get their donation doubled by trying to score matching donations from Facebook and PayPal on Giving Tuesday.
Austin Hopf, SAE's Fall Festival Chairman said: "A lot of people think we're a group of guys sitting around drinkin'. Really, our job is to get out into the community and help people out."
"We have stereotypes of what that means, frat boy, but I am telling you, these boys, I would let them date my daughter. They are fine young gentlemen with hearts of gold and they are serious about how can we help," Jill Kincaid, Founder of Chemo Buddies.