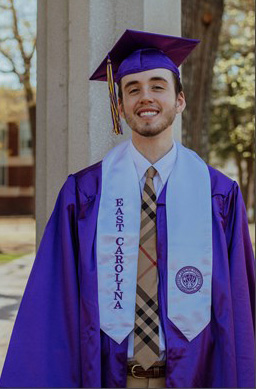 GREENVILLE, N.C. — Delta Sigma Phi brother Evan Newsome is celebrating entering the next phase of his life in more ways than one. Following May 3's Eastern Carolina University spring and his departmental graduation, he is hoping to mark one more milestone on Monday.
That's when Evan will return to his doctor in hopes of hearing that his cancer is in remission.
Evan, 22, of Winton, was diagnosed with Chronic Myeloid Leukemia in the fall of 2017. Since then, he has been working to complete his communication degree while undergoing treatment for cancer.
"I've been so proud of him for not giving up," his mother, Sandra Newsome, said. "I don't know that I wouldn't have gone home and had myself a pity party. But that's not Evan. … He's not let it get him down at all."
Evan, a 2015 graduate of Ridgecroft School in Ahoskie, was in his junior year of college when doctors learned he had a dangerously high white blood cell count.
Prior to the discovery, there had been few signs that anything was wrong. A few months earlier, Sandra had noticed that her son had some bruises, which he attributed to his summer job in construction. She also thought that Evan appeared a bit wider than usual through his mid-section, but she reasoned that the so-called "freshmen 15" had contributed.
It was not until Newsome asked her son to come home to get a flu shot that it all became clear. Unusual bruising near the site of the vaccination led his doctor to order blood tests that showed what appeared to have been weight gain was an enlarged spleen. Two days later, Evan was hospitalized.
He missed the remaining week of classes but began emailing his professors to keep up with assignments.
Evan began a form of oral chemotherapy that would allow him to return to campus as a full-time student the following week. Within two weeks of being released from the hospital, he also began a part-time job on campus.
Though he would have to undergo a change in medication, he declined to reduce his course load the following semester. Evan, a dean's list student, was determined to graduate in four years.
"It's just my attitude I've always had," he said. "Things keep going, so it's just another thing to get through. That's kind of always my mentality."
Evan credits his family, along with girlfriend, Hannah Jones, and fellow members of Delta Sigma Phi fraternity for helping him to remain encouraged.
When they learned of his diagnosis, his fraternity brothers launched a Go Fund Me page for Evan, but because of his family's insurance coverage, he declined to accept donations. Instead, funds were directed to the Leukemia and Lymphoma Society in Evan's honor.
In addition, the fraternity launched "Concert for Cancer," which for the last two years has served as a fundraiser for the society.
Newsome said that while college fraternities sometimes have a negative reputation, she is thankful that members of Delta Sigma Phi have been a positive presence in her son's life.
"These guys, they check on him," she said. "They've been good. They've been there for him. They've been his brothers; they've truly been his brothers."
Evan is appreciative as well.
"I know my situation is not a good situation to be in by any means," he said. "But I guess I'm grateful because it could have been a billion times worse."
Even with its challenges, cancer has taught him lessons that he could not necessarily learn in the classroom.
"It made me grow up," he said. "I was a little immature going into college. I guess it can of made me grow up and mature me more, having to deal with stuff on my own."
After graduation, Evan is moving into his first home, located near his parents. This month, he will celebrate the start of his career, working with his father, Tim, at the family business, Commercial Ready Mix Products.
"I'm extremely proud of him," Newsome said. "He could have just given up and come home and said 'Woe is me; feel sorry for me' and kind of milked this. But he hasn't. … He's handled this like a champ."