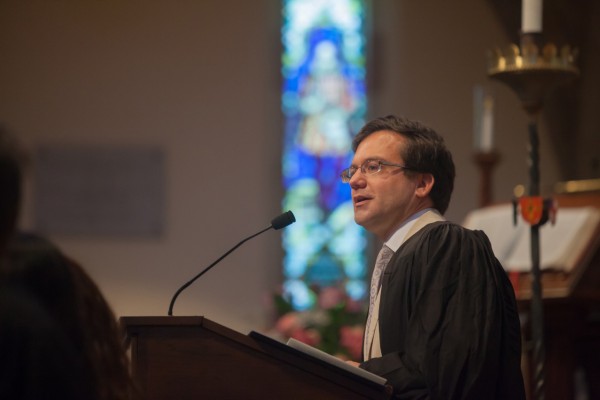 Higher education advocate, Chi Psi alumnus leading college
KENOSHA, Wisc. — "I embrace this community," said John Swallow in April 2018, after he was sworn in as Carthage College's 23rd president.
The inauguration was attended by local college personnel and delegates from more than 30 colleges and universities. W. David Romoser, ZΔ'65, represented Chi Psi Fraternity at the event. John M. McCardell Jr., vice chancellor of the University of the South, Swallow's alma mater and most recent post, gave the principal address at the ceremonies. McCardell was the recipient of Chi Psi's 2014 F. Van S. Parr (A'29) Award for commitment to Chi Psi values. The award is presented to a non-Chi Psi for his or her demonstrated commitment to the values held sacred by Chi Psi.
"John's selection for the Carthage presidency is in recognition of his leadership at Sewanee, his dedication to students, and his long-time advocacy for liberal arts," said McCardell.
"As provost, John has been a steady and wise partner. I shall deeply miss his counsel, his devotion, his breadth of interest in the work of the University, and the quiet competence he brings to every task he undertakes. All of Sewanee is proud of this achievement of one of our own … And John and Cameron don't simply mouth the words of 'community,'" he said. "They live them."
"I'm so honored to have been part of Sewanee's growth and development these past six years, and grateful for the extraordinary privilege of working closely with Vice-Chancellor John McCardell," Swallow said. "Cameron and I are thrilled by the new adventure ahead of us, and will be glad to welcome Sewanee friends to the shore of Lake Michigan."
It could be said that John R. Swallow has been on the educational fast track almost since birth: He surpassed third-graders in math as a kindergartener. By seventh grade, he was enrolled in high school geometry. At the age of 15, Swallow started college at Sewanee. After graduating with degrees in mathematics and English in 1989, he earned two master's degrees and a Ph.D. in math at Yale.
From 1994-2012, he was a faculty member at Davidson College, a liberal arts institution in North Carolina with an enrollment comparable to Carthage. He returned to Sewanee as its provost and chief operating officer, despite having no previous administrative experience. Two years later, he added the title of executive vice president to his resume, juggling grant applications, Title IX issues, and expanding athletic programs.
The Chronicle of Higher Education and The Huffington Post have published articles by Swallow advocating for higher education. He also wrote an abstract algebra textbook and has authored more than two dozen mathematics research articles.
Swallow has been busy since coming to Wisconsin. He was elected vice chair of the Kenosha Area Business Alliance board of directors and is looking to expand Carthage's impact and connectivity in southeastern Wisconsin.
"We've already seen John and (his wife) Cameron immersing themselves in our community," said Carthage Psychology Science Department Chair Leslie Cameron, complimenting Swallow's ability to wear many hats and calling him "a kindred spirit."
He emphasized his moral responsibility as the leader of the college by referencing Racine's Herbert F. Johnson Jr., Y'22 [yes, a Chi Psi from Cornell], who commissioned a film advocating for peace and understanding which premiered at the 1964-65 World's Fair in New York.
Swallow called his job "an expedition of great magnitude … (involving) thousands of lives." He then challenged himself, and his audience, with two rhetorical questions: "What does the world need? And what do our students need to have an impact in that world?"